MOA430 – Ultimate Aircooled Air Ride Struts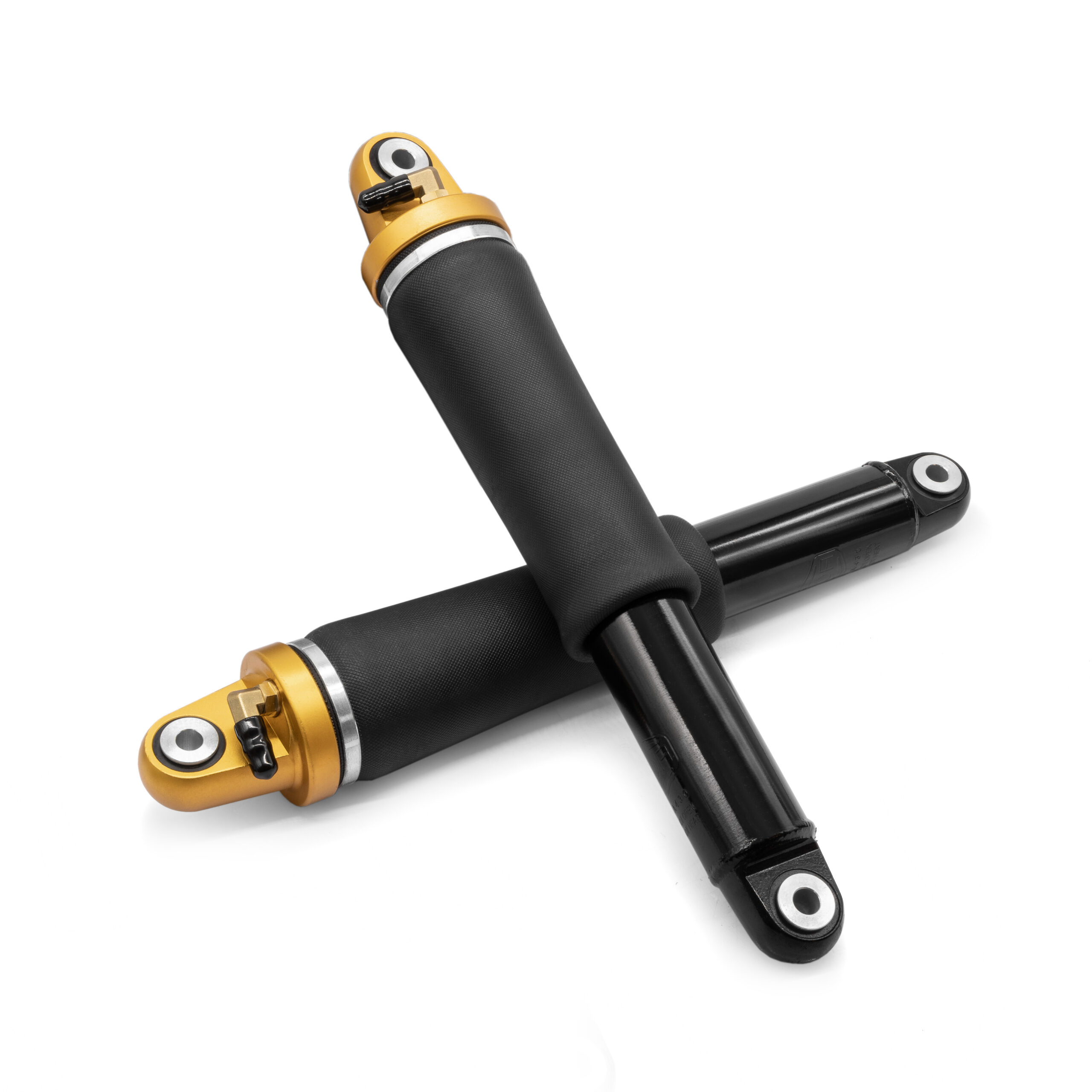 MOA 430 Goldtops Ultimate Air Ride Front Shock / Sleeve Struts 11″ – 17″ Stroke, MOA430 Pair
---
Classic Aircooled VW Shocks and Bags parts by Limebug
The MOA430 Goldtop Ultimate Aircooled VW air shocks, specifically engineered for T1 Beetle / T14 Karmann Ghia and Type 3 applications, the only air strut with accurate lifting heights, compliant ride with damping tuned specifically for the demanding lightweight rear engined configuration. Featuring Limebug's unique twin cavity body comprising of a damping module and lift module.
Explore more on the ultimate aircooled air shock
Spherical Bearing Mounts
Kevlar lined spherical bearings mounted upper and lower equipped with anti rattle technology. Manufactured with several key details, foremost the inner diameter of the rose joint is correct 12mm stem and length size for perfect OEM fit. Running upper and lower dust seals for all climate running with retaining top hats.
Body and Bag
Ultra strong chromoly construction with robot welded body. Oil valving / damping tuned to specific vehicle mass. Add to this the tapered rubber sleeve, harnessing a unique rollover lower section designed to allow constant flexibility at all heights with no increase in maximum diameter., Retained with a ratcheted body, ultra strong grooved collar and rated to over 700lbs of lifting force. The body also is tuned in dimension to allow upper tower clearance, lower relocator clearance and mid body trailing arm clearance, especially on King and Link pin configurations, this also increases the steering limits.
Internal Design
Surface area was always the goal, the narrow bore piston retains residual strength taken from the proven stem coil-over giving the shock lateral stiffness way beyond the required need for a shock making this technically an air strut. This piston twinned with the 80mm (Approx) bag body increases surface area of lifting to almost 10x mass to the equivalent product at driving pressures, meaning true accurate heights, less deviation across width of vehicle and ultra accurate control through smooth supported piston movement.
Goldtop
The goldtop, manufactured in 6082 aluminum, visually can be seen the narrow headstock giving ultimate clearance to narrowed front axles, maximum clearance to trailing arm, chassis legs and steering components. The square stem deliberately long to give freedom to float forward and backward without intrusion to supporting components and also giving height to allow the air tap to remain ultra accessible and run either visual or hidden depending on user preference. Aluminum headstock provides the tapered air port in industry standard NPT fixing (included) to 1/4″ ptc rotating air tap. Internally 8 degree hollowed out cup to the seal ring barb giving options for armored and 3/8″ installations. This pocket increases drop by a further 1.25″ giving unparalleled lift vs drop.
Designed for the following models
• T1 Front 1949-1965 Beetle / Ghia (All Variations)
• T1 Front 1966-1979 Beetle / Ghia (All Variations running Limebug Jawbreaker series beams (Not including 1302/03 models)
• T3 Front Fastback / Squareback and Notchback and Type 34 Razor Edge fitted with T1-T3 Jawbreaker conversion beam.
Data
• 295mm-430mm (11.6"-17") Compressed – Extended Range.
• 780lbs of lifting force at 100PSI with re-In forced sidewall.
• Rose Joint (spherical joint) Ends top and bottom to allow for our of true perfect operation.
• Metric 12mm Bosses top and bottom
• 1/4″ NPT Sunken Air Tap Mount 1/4″ PTC as standard / interchangeable.
• Shallow cut on the lower body for trailing arm clearance through the travel range.
• Scalloped top mount for beam clearance Restricted 100mm Max Expansion Diameter.
Always use MOA430 struts with Titan Through Rods to maximize ride quality, performance and upper/ lower travel limits.
Disclaimer
Warranty is subject to T&C's. This product is designed to work only with Limebug Manufactured Axles/ Beams exclusively.