Jim Dandy Rack Fitting Instructions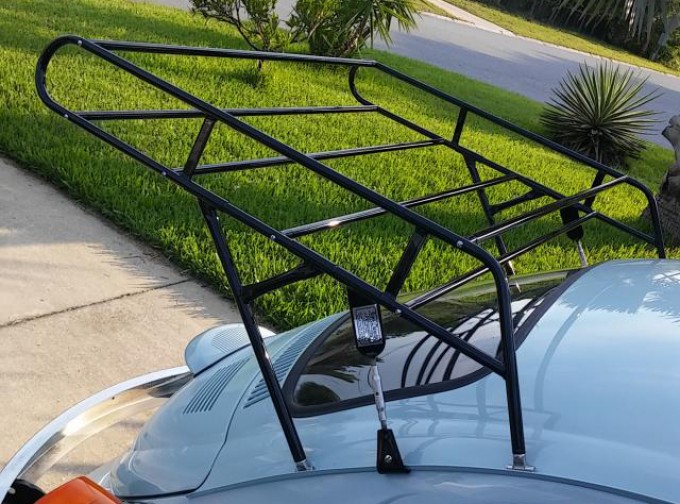 Jim Dandy Rack Fitting Instructions /Disclaimer
WATCH FOR SHARP EDGES. FILE IF NEEDED. ESPECIALLY ON THE 6 STRAIGHT TUBES!!
FOR INDOOR DISPLAY PURPOSES ONLY!!
The purchaser (owner) of this kit assumes all liability in the assembly and use of this kit. It is intended for indoor static display use only. Using in any other way is at the sole discretion of the purchaser (owner).
The kit is not intended to hold any cargo. By loading with cargo or attaching to any object or vehicle, the purchaser (owner) of the kit assumes all risk and liability. Bullidriver Steel Works Inc. is only the manufacturer of this unassembled kit. By assembling this kit, the purchaser assumes all liability of use and agrees to hold the owner, manufacturer, and Bullidriver Steel Works Inc., harmless in the event any damage to property or life occurs. The owner (purchaser) of the kit will indemnify and hold harmless of any and all claims, actions, judgements including all costs of defense and attorney's fees incurred in defending against any legal action against Bullidriver Steel Works, Inc., owner, and family.
Instructions
Lay out the kit like below.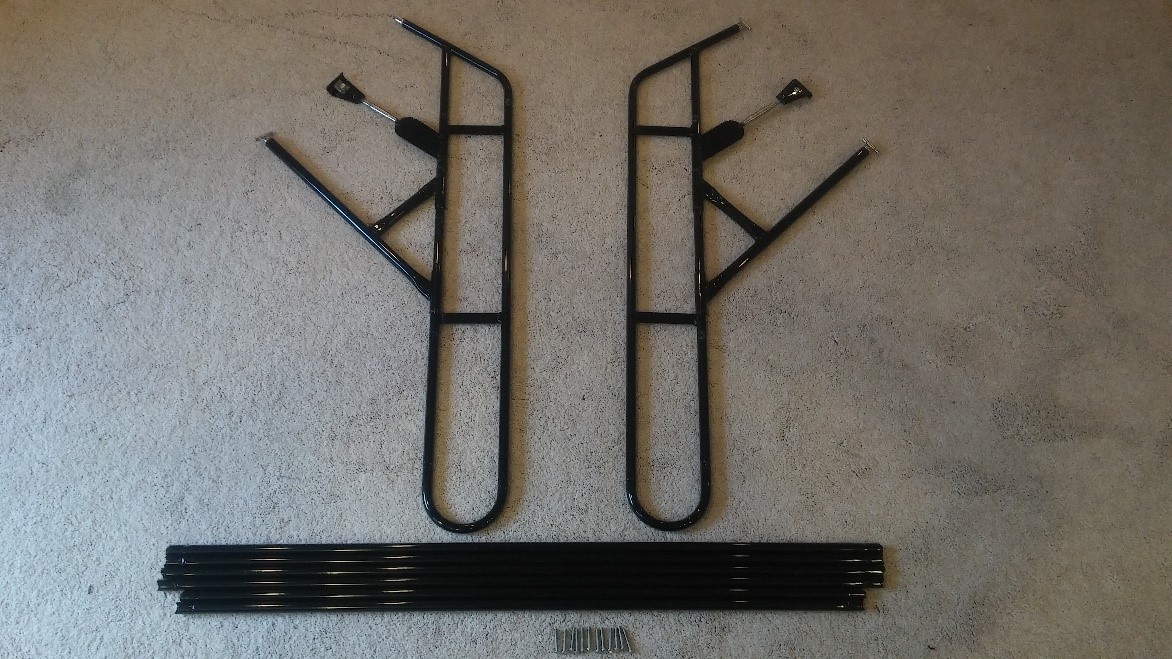 Attach the 4 long tubes to the bottom parts of the rack. Start on 1 side. Use thread lock like loctite brand.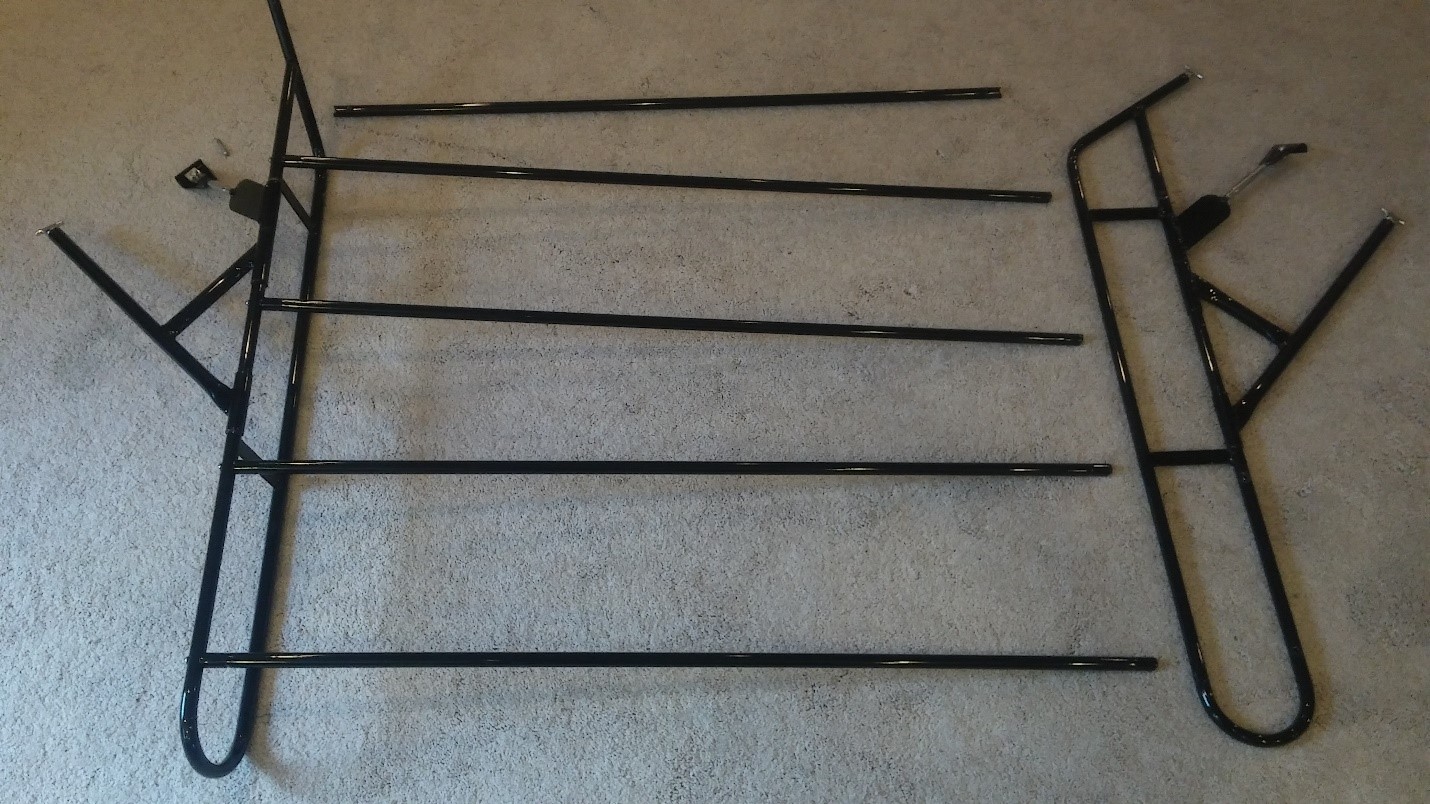 Now attach the other side. Use thread lock.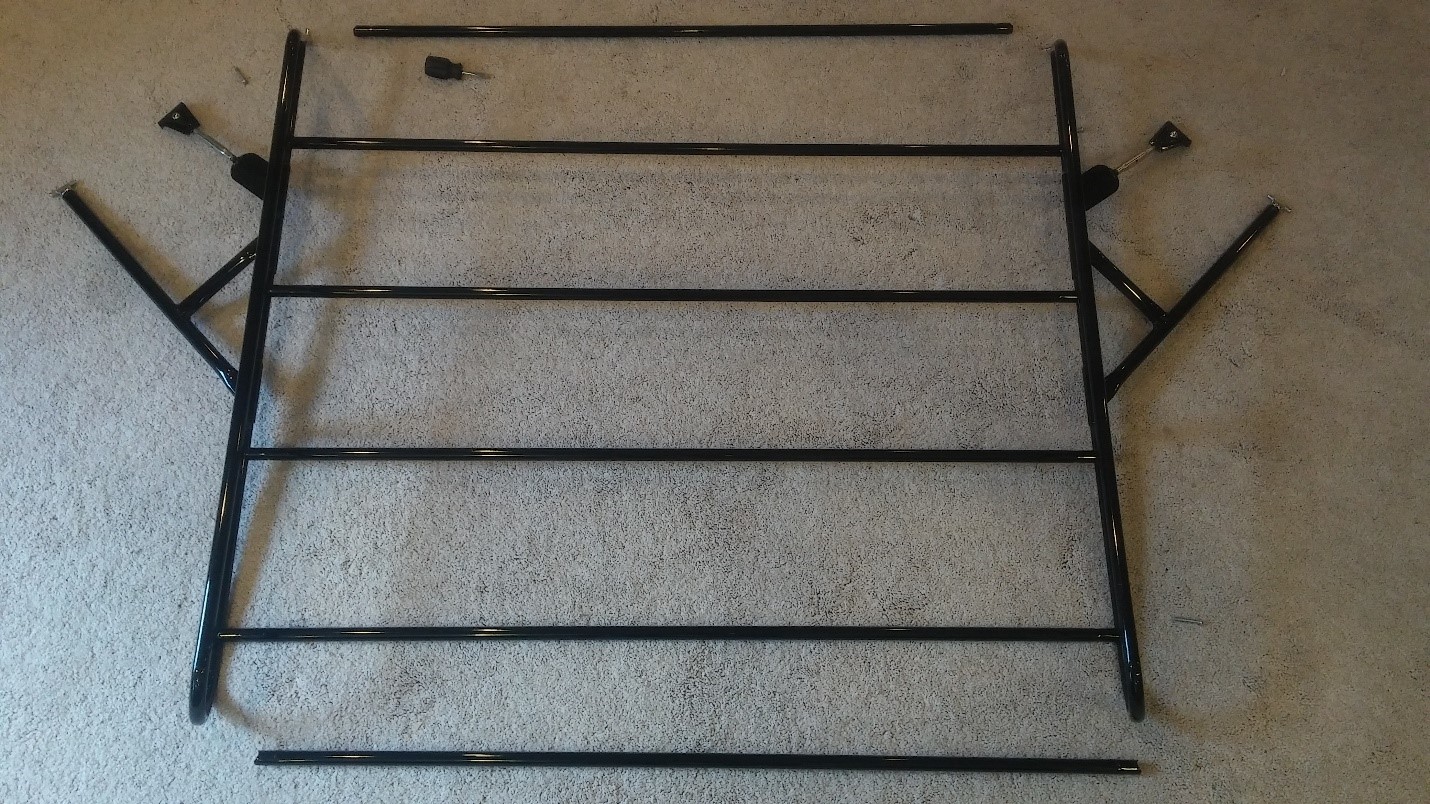 Now flip over and install the 2 top tubes. Use thread lock.
Below is fully assembled. Make sure all screws are tight.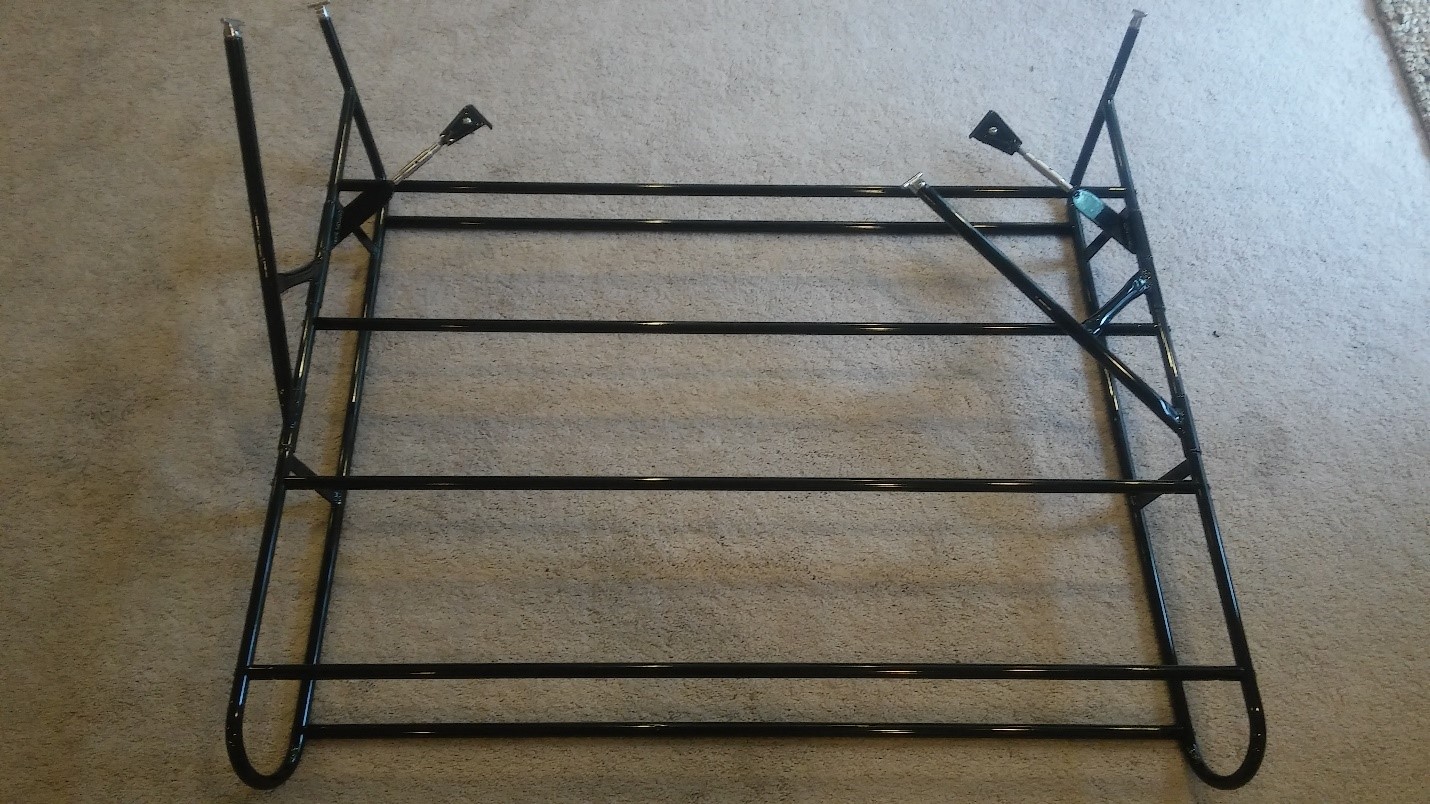 This is the clamp. It should be adjusted to be snug, not too tight (the clamps will bend and be useless) and the stainless bracket on the rear of the clamps should squeeze the rain gutter.
The lock nut should be tightened to hold in place. The tab may need bending to fit the gutter properly. Shake the rack to see if it fits snug.
If not, adjust the rack to fit snugly. You may have to use a thicker sized rubber tube on the feet to get the proper fit for your vehicle. When installed properly, the rack will attach securely. Attaching to vehicle and / or loading with cargo is at your own risk.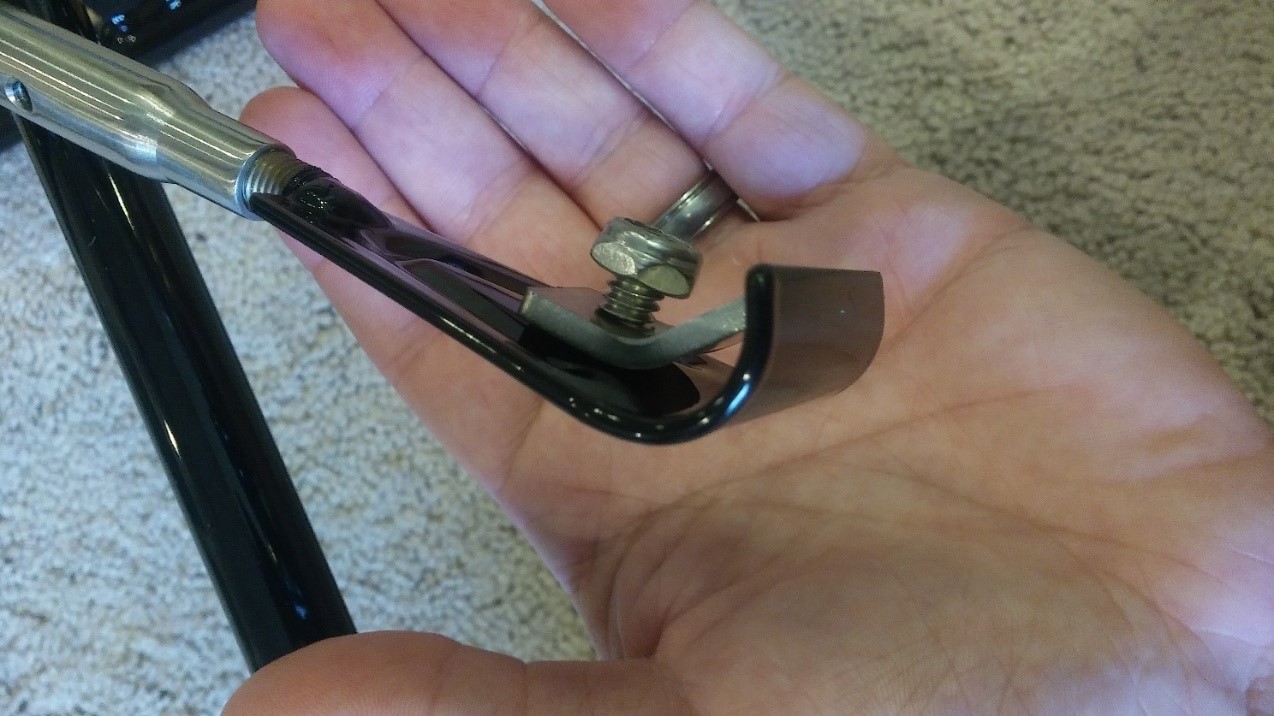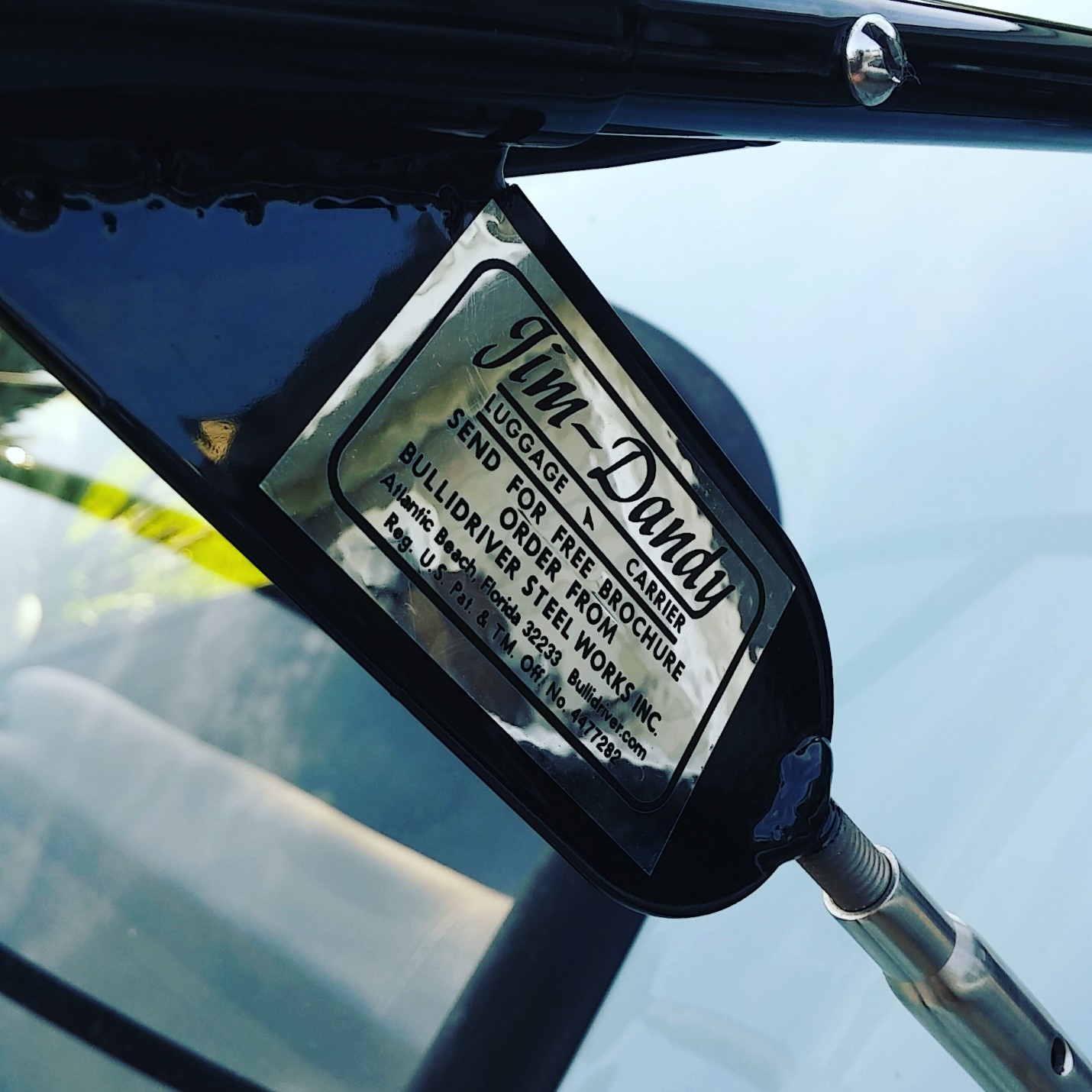 The sticker faces out on each side.