'70's Air'd out Beetle belonging to Rhys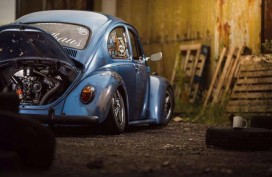 A great story of the VW family coming together for a fantastic cause!
We were contacted a little while back by a chap named Terry, who messaged us about a very special project to build a beetle for a good friend of his named Rhys. Rhys is a 16 year old lad who is fighting through an extremely tough illness at the minute, and has earned the admiration of not just his friends and family but all of the VW community. You can read the full article by people who are far better at writing than us in the latest hayburner issue 19.
Rhys's dream has been to lower his VW from the word go. Originally when Terry spoke to us about the secret project to be hosted at Deadhaus VW, the idea was to simply lower the beetle. But gradually more and more companies came on board and donated. Big respect to the guys at VW Heritage, Just Kamper and Aire Valley who all chipped in to make sure this was a big success.
The project took only one weekend and with our full air system, the Chromed Fuch Alloys, the 4″ Beam, this great patina'd bug was looking sharp. As you can imagine Rhys was blown away with the results and has been travelling round from show to show with his grandad enjoying all the great atmosphere around his sweet looking car. We had the pleasure to meet both of them in person at the recent Skegvegas where the car had pride of place in front of the main tent.
Thankyou again for choosing us to help with this build, an absolute honour.
Much love, Limebug!