'65 Beetle Patina Monster Beetle "Billy Bob"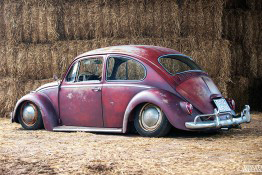 The 5,000 miles from new, Crazy Patina Rat Infested Swamp monster from Idaho
Words by Dave
Ok so, my 1965 Beetle Started life in Idaho, after being used for a very short time the beetle found its way to some local swampland. How this happened still remains a little unclear but what we do know is the new owner (or person who acquired it), used the beetle as a fishing platform, with two large pieces of angle iron welded to the beam and a metal platform stuck out in front, you can see where they sat and fished off the front of the car and where the tackle box was. The bonnets paint has been rubbed off almost completely with all the factory trim holes welded up. This obviously was a bit more comfortable on the Red Neck's behind . The car sat out there with only 5,000 miles from new until it was found and shipped to Southampton.
I found the car through ebay by chance after looking for a great patina'd beetle, I really wanted something along the lines of my patina split, with a bit of character. The Bug was bought un-seen before another bidder had chance to buy it , he wanted to spray it matt black !!!
I arranged a trailer and set off to collected it from the south coast , with some trepidation I was relieved the Bug was just what I wanted. It was sort of complete, with some fantastic bleached panels, still had the factory fit radio, original tyres ( well perished ) and really low mileage. The Bugs interior was trashed , Stunk of racoons and rats, when I asked why had the pedals been cut out, it was because it had a huge spiders nest on it that the previous owner was too scared to go near !!!
The Bug was put into Storage for a while until Craig at Limebug had a time slot and space, Craig collected the car with a trailer and a new project was started.
Words by Craig
Now when we started the project we went through with Dave what he was after, and basically the two things were, I want to keep as much of it and as tatty as possible, but I it needs to be low. First thing we went through was the static route but it very quickly became a far better idea to fit a full air ride system, due to extremely steep and rough roads getting into the boatyard where Dave lives.
We tore the car down and discovered it had spent pretty much all of its life housing the majority of rats living in Idaho. With metal worm taking hold of the channels, wheel well and other common areas, and rat urine rotting the tunnel, frame head and anything else they could use as a corridor. We replaced the floor pan halves, fitted a 4" jawbreaker beam, full air setup, painted up the gearbox and powdercoated all the running gear. Now with a solid chassis we turned to rid the smell from the car, after much powerwashing the occasional vomit coupled with throwing away the entire interior, headliner and wiring loom we had a only few parts to work with.
We retapped every single bolt hole in the shell as nearly every bolt sheered, every handle was jammed, every window winder, bonnet release, even the clocks, wiper motor and plungers had jammed in place.
Dave managed to acquire a full interior and some really nicely worn door cards, after fully soundproofing the roof and floor with a new deluxe headliner, carpet, seals and chrome the interior was looking good. Dave's original intention was wanting the car ready to drive to EBI, however after arriving the day before the bug was due to leave with still many unsolved issues it didn't look good.
We still had a few hrs before a long drive to Belgium, so we worked through the night, fighting with window seals to get the glass back in . About 5 in the morning after a good 2 hrs effort to get the windscreen in some ham fisted idiot cracked it with an inch of seal left ( That be Me – Dave ) , replacement was found on the Limebug office roof and popped back in without a problem.
So after a day/night of not sleeping we pulled it off and now named "Billy Bob" the Bug went to EBI. Unfortunately with no MOT we couldn't drive him there, but we did cruise round the show and for the first time in probably 50 years the beetle was driving and running sweetly with its cleaned up 1200cc popping away and the factory steels on new rubber the years of dust, swamps and rats was behind.
The beetle took around 1 year to fully restore, the entire exterior and all visible areas were left exactly as they were, the underneath of this beetle is quite something else with a totally painted underside and all detailed drivetrain, and chassis, it's as rough as it is on top as it is good underneath. The flat paint was preserved with a satin lacquer, keeping the Reds, Yellows, Browns and Whites of this bonkers patina there for years to come.
Words by Dave
I have recently just clocked over 6,000 miles and have every intention to get the beetle to many upcoming shows especially in the UK and Europe. It definitely won't be a trailer queen and love driving it about. The Air Ride is brilliant, but being used to the Split I forget sometimes and park and drop it too close to the kerb, then I don't look quite so cool as can't get out! Billy Bob is fantastic car that deserved rescuing, and not to end up matt black, with so little miles and spending 90% off its life as a fishing platform in a swamp it's a very rare find with a quirky past. Plus one day after a few years of sex wax air fresheners the racoon aroma might be bearable!!!