Description
T181 / T182 1969-83 Trekker / Thing "The Revolution" Cantilever Swing Axle / IRS Rear Air Ride Kit, Bolt on
Classic Aircooled VW Rear Air Ride Kits parts by Limebug
The latest Limebug Revolution Bolt-on Air Ride Kit built on the toughest most versatile platform yet. The revolving cantilever air suspension system with horizontal damping, totally unique in design and function giving unparalleled ride quality and functionality.
The revolution boasts the lowest operating pressure and widest operating range in its class along with the strongest design. The "cartridge" central unit is compatible with all aircooled VW models spanning all years and all configurations including IRS and Swing Axle and now compatible with factory heaters.
This kit features a series of core benefits that take air suspension to a new level in simplicity of operation/ installation and maintaining.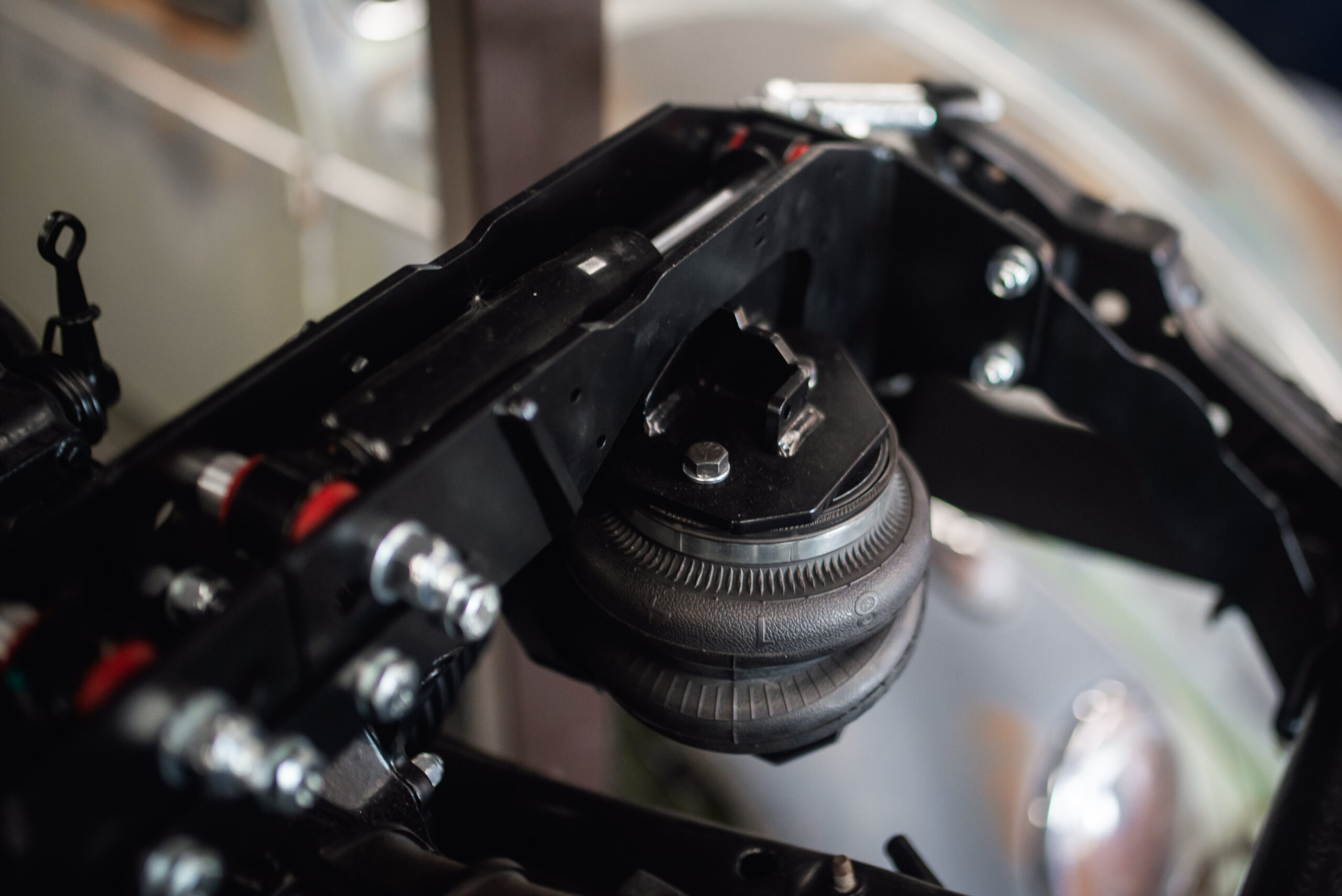 Cartridge Built
Self contained Cartridge system means ultra simple install, and self limiting within its own operational cage. No stress is dispersed on any external factory components.
Infinitely Cross Compatible
Fits all the following models with only differences of tab/ front link and drop link rod.
– T1 Beetle / Karmann Ghia
– T181 / T182 Trekker / Thing
– T3 Fast / Notch / Squareback and Variant
– T34 Razor Edge
– Fridolin
– 1302 /03
Suitable for IRS and Swing Axle Models
Fits all models of IRS and Swing Axle with the same unique system
All years
From 1950-1995 One Kit fits all
With heaters
The only kit currently that offers true air ride (no torsions) and the ability to maintain the factory heat exchanges and heating system. Some small mods required on pre-60 25/30 motor shoebox heaters, inquire for full details.
No Engine / Gearbox Removal required
Getting installation time right down, no engine out, no gearbox out, not even the fuel and clutch need to be touched.
Lowest lifting pressure possible
Thanks to the unique cantilever arm, the lifting is possible as low as 15PSI using the one to one inverse cantilever the bags lifting force is transferred directly over the shock mount.
Height sensor compatible
Another first, with pressure based systems evolving drastically over the past 5 years alongside our air kits, it was time to step it up again with our hidden mounting system, takes the sensors way out of the way of wheels and axles meaning no dirt and rocks, and flawless operation.
Hybrid possible
Hybrid meaning, if you run late engine and axles in an early car, say a 58 with a 65 transaxle. Our kit will still works perfectly.
Infinite range and stance dial-in
So your style is Cal Look, or low rider, big billets, or fat wide oval tyres. No matter what the range remains the same, but you have a 1 inch range of flexibility to move the range, meaning you can dial in that rear travel perfect to your own taste and style.
Invisible install
Once fitted the system sits high up on the chassis and cannot be visually seen at any height, people will wonder how you got that static ride so low ;). Its all about those clean lines.
Simple servicing and winter storage
Inverted bags mean water residue sitting and purging is a ten second job, put a jack under the car. Pop the air line off just leaning underneath, the bag drains with and moisture, its that simple.
Bump stop limit dial-in.
Built in bump stops, so you can set that low down stance position to suit your deep sump, or just to stop tyre scrub for rolling air'd out on the track.
All machine pin / phosphor bronze bush operation
Machine pins, phosphor bronze, forged and all CAD plated, the premium standard you've come to expect taken up to the next level.
Fitting / Installation Video Guide
Optional Extras
–2″ Dropped Air Plates: These plates will increase the amount of drop you can achieve and resolve toeing in issues at low running heights. They also have recently received an update which now means they run a shorter bore tube stopping rubbing on the outer torsion cover and use 2? Inner Diameter bushes making them overall much stiffer and give better feel to the rear end.
– Year Options: As standard we make the late post 1959 air ride kit, if you require a kit for an early vehicle running short axles (straight shock mounts), select this from the dropdown menu.
Additional Documents
Air Ride Fitting Guide
Air Ride FAQs
Important Operational Info: Must Read!
When operating your air ride kit, you must understand that you now have total free range to move the suspension to its mechanical upper and lower limits. The air bags used are strong enough to lift the weight of almost two Beetles per bag. In order to maintain be sure never to exceed the mechanical limits of your vehicle.
For Link Pin front setups, with no mechanical restriction be aware over pressurisation will cause the shock to foul the front trailing arm. Be sure to inspect the vehicle with the wheels off and run the car through the travel noting the upper limit PSI, be sure also to never try and collapse an air shock with 0PSI, this will force the rubber bag sleeve between the shock body and cause chaffing/ cutting.
For Ball Joint front setups using standard front shocks, be aware to tie back the air shock pipe running on the lower line to avoid chaffing and insure you have adequate clearance for the upper rubber bag under expansion. Again, note upper and lower limits as with the Link Pin models.
Also consider with Ball Joint models, when you reach the mechanical limit of your Ball Joints you will risk damage by adding more pressure.
If running T1 rear air kit, be aware of your steel and rubber bump stops, once you hit these the kit has nowhere to go and you will only apply more stress to the kit, the first sign you will get is a twist in your lower brackets, if you continue to apply pressure after this point you will cause more damage to surrounding areas. Again, to set up this area as with the front, have a friend monitor the height of the rear of your car when you do initial setup.
Also at this point consider that swing axle vehicles will lift considerably higher as soon as they move once air'd up due to the camber of the rear axle. When setting your ride heights do so applying pressure then drive the vehicle around approx 10-20 metres to allow the axles to re-settle then tweak and repeat until satisfied.
When Jacking the vehicle up always place the vehicle onto ramps or a jack, then let all the air out of the four corners to avoid an over pressurization situation when lifting the vehicle, then lift the vehicle off the ground afterwards.
If ever leaving your vehicle with a garage or MOT centre unfamiliar with air suspension, make them aware of the upper limits and inspect before and after picking the vehicle up to check for damage.
Always operate between 90-95% of the upper range NEVER 100%. As a general guide line rear kits rear their upper limits at approx 90PSI. The front around 130PSI. If you exceed these limits you WILL cause long lasting damage to the air ride kit brackets / trailing arms / shocks / Hardware.
If you drive the vehicle excessively low you will cause damage to your front axle / beam trailing arms along with the frame head. Always lift the car up to a suitable drive height and maintain air and mechanical joints and unions.
One final note if you put in a really high pressure and rear the mechanical limits be aware you will be damaging the vehicle even for a very short burst. Be careful and considerate to your air kit and you will enjoy many, many miles of hassle free driving fun.
If you are in any doubt and have a kit or considering purchase of a system and need more information, call us on 01782 922047 or email on: vwparts@limebug.com


SKU: 030010209