Air Ride?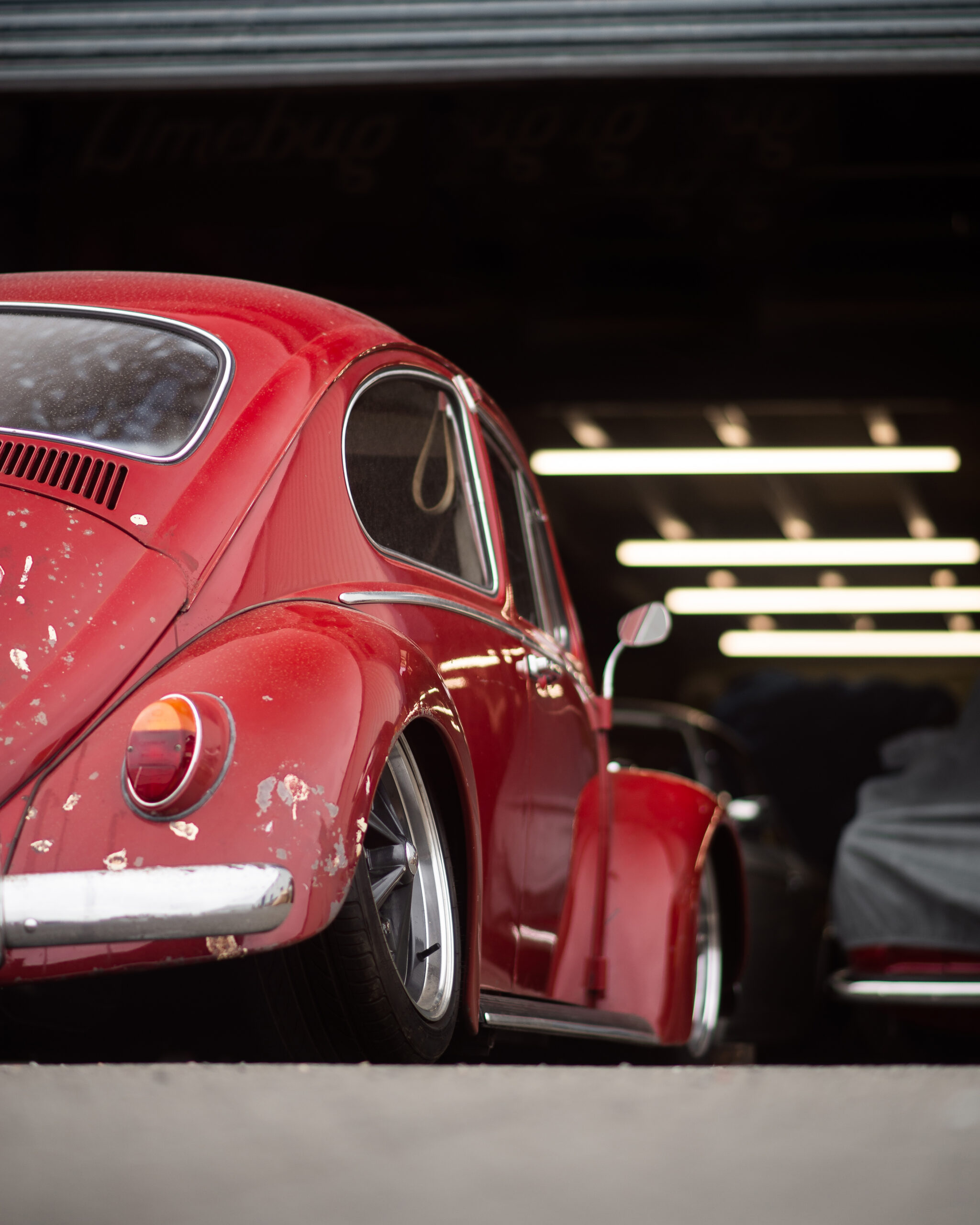 Limebug Aircooled Guide to Beetle / Bug Air Ride Suspension
---
Beetle Air Ride Systems and Information by Limebug
Why Air Ride by Limebug?
So air suspension, what is it, why the hype, and is it right for your build.
Lets dive right in with the Pro's
Driving benefits especially specifically on rougher road or when facing larger obstacles, steep driveways, road humps/ bumps, low garage clearances, cobble streets, mini roundabouts, fields and campsites.
Adjust the height of the vehicle to compensate for offset or unusual loading.
Drive your vehicle with confidence knowing no obstacles will ruin your trip, be it a holiday or just a trip to the market.
Prevent damaging the underside/ Chassis of the vehicle. With the ever increasing value of the classic Beetle and other aircooled platforms; Air Ride is a factor in the longevity of your vehicle.
Downsides to Air Suspension?
Other than installation time being a little longer and an initial cost difference compared to static suspension, the short answer is no.
Air suspension gives all the benefits of both stock and lowered suspension in one package, now also twinned with the ability to easily unbolt and transfer to different Aircooled VW models alongside the Gen-II Beams which don't now need to be removed from the vehicle to convert to air ride ready, the pro's of air are well worth considering for your build.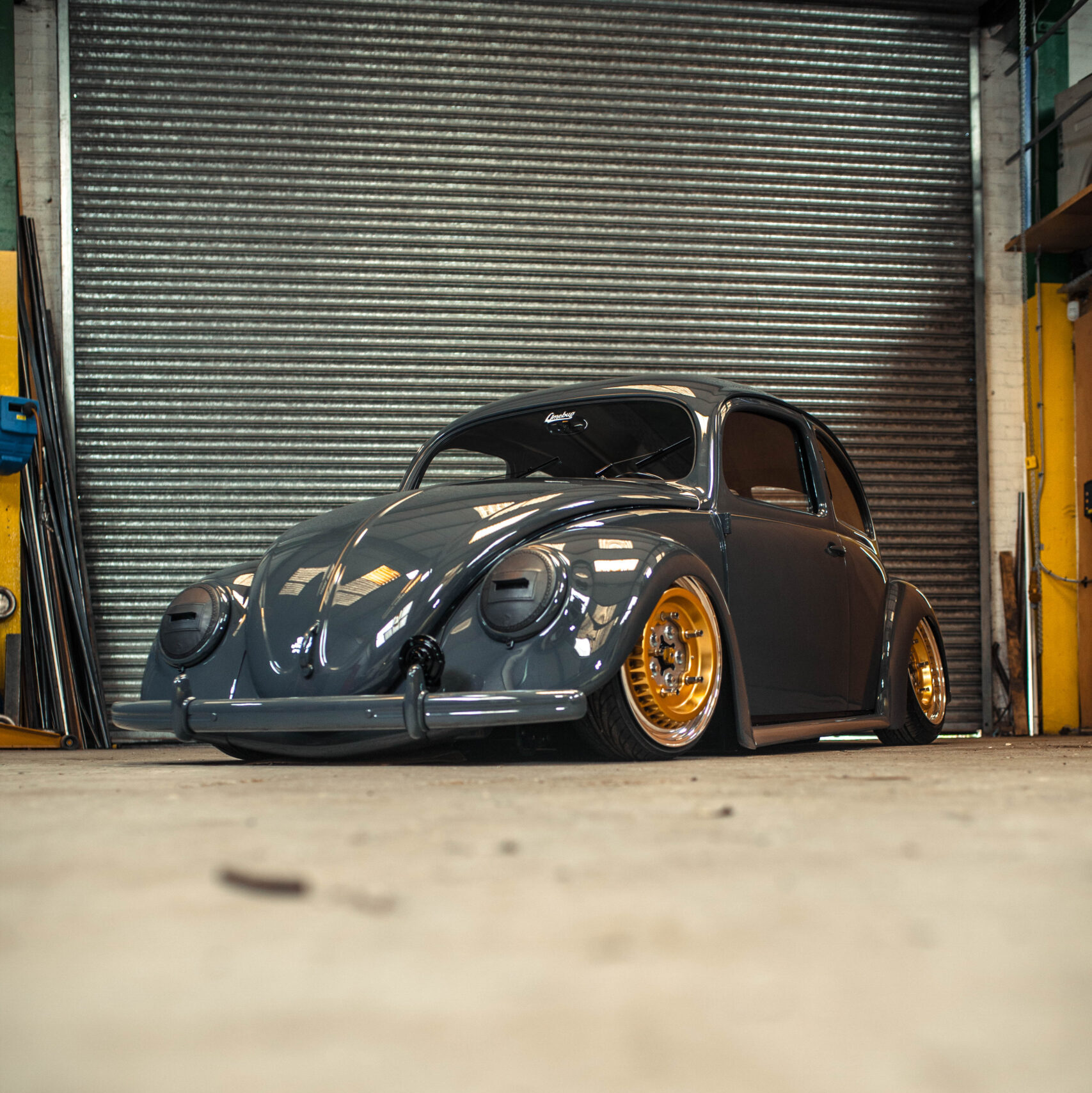 Front / Rear or Full Air Ride?
Limebug offers configurations to suit every requirement:
Deluxe Air Ride Kits – These systems are the "everything in a box" solution to converting the whole vehicle to Air Ride + Narrowing in one concise assembly (Note: 1302/03 models use McPherson struts – available here)
Complete Air Ride Kits – This kit compromises of all of the above components minus the Jawbreaker beam and tie rods. If you have recently purchased a beam or are happy with your existing beam and don't wish to upgrade, this is the kit for you. (Note: Excluding 1302/03 models)
Front Air Ride Kits – Available with or without beam, gives you the option to add all required components for Air Ride application to your existing beam or overhaul the front axle with all required parts.
Rear Air Ride Kits – "The Revolution" rear air ride kit, is our intensively tested and most functional platform on the market. The core body fits T1, Type 3, Trekker, both IRS and Swing Axle platforms respectively.
Deluxe Air Ride:
The Limebug Deluxe Air Ride kit is the complete solution to taking a totally stock Beetle / Ghia with no modifications and converting completely including total narrowing of the front axle with fully built and assembled track rods, and then of course all the custom air suspension gear designed by our engineers here in the UK. This kit is the most conclusive solution to air ride for Aircooled VW's to date. No system touches this kit for quality, ease and simplicity of fitting and beautiful functionality.
Limebug is the only Aircooled VW specialist only offering fully bolt on, true air ride systems (this means we do not utilise any of the original torsion bar system, and give you the full, maximum travel available). Here is the 3 key segments of the Deluxe Kit:
Front Air Ride Kit – Everything required to overhaul the front axle with air suspension
Rear Air Ride Kit – "The Revolution" kit with options to add Air Plates
Management System – The brains behind the system, allowing the input of pressure into each corner of the vehicle. Pressure monitored analogue & digital set-ups are available and also Height monitored digital set-ups. To view the range before purchasing or for more information see here
Limebug Front Air Ride:
Systems designed specifically for the front axle of Aircooled VW models.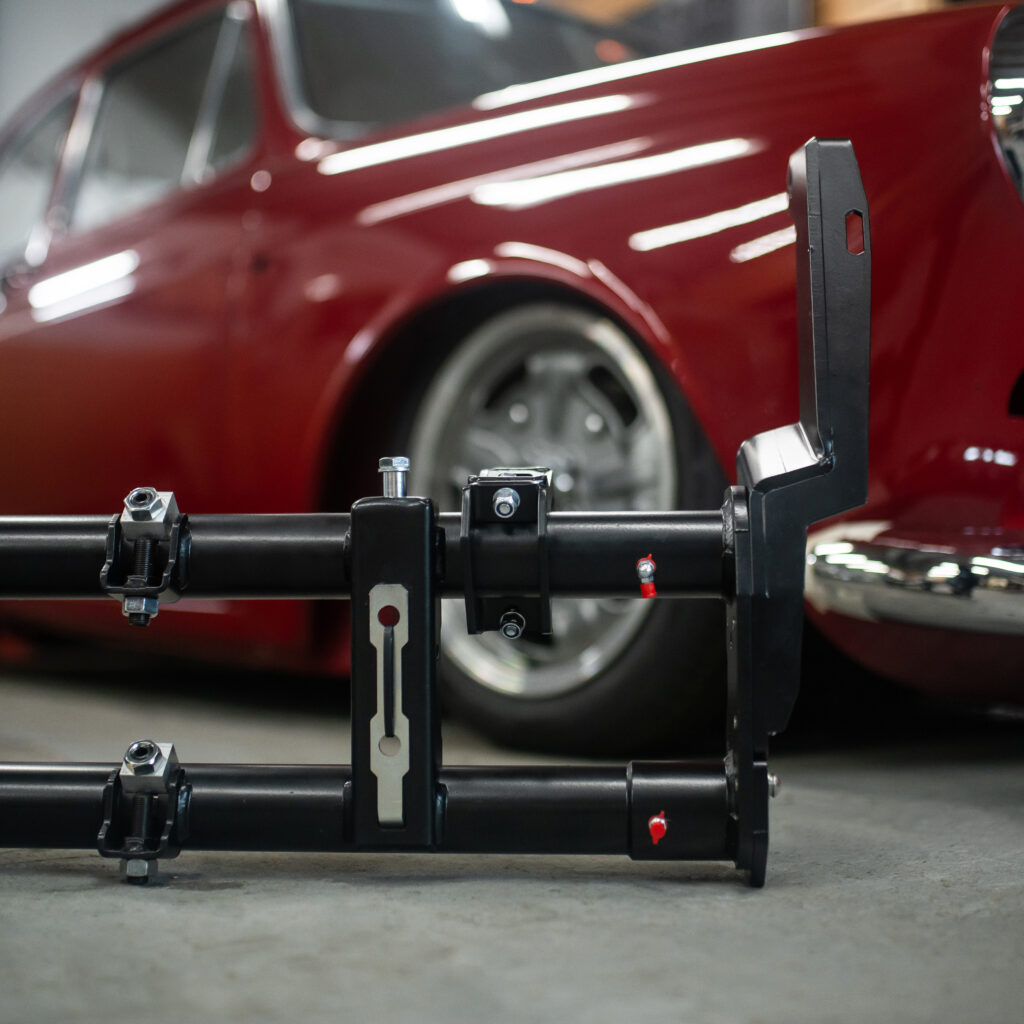 Click the Image above to view our conclusive range of Front Air Ride Systems
Individual Available components for Front Air Ride listed below:
Front System Requirements:
Limebug Rear Air Ride:
The kit built on the toughest platform yet. The revolving rear air suspension system changes how air ride is being looked at in the aircooled world. With over a year of solid testing at Limebug HQ we are proud to launch the Revolution, this kit features a series of core benefits that take it into a new level of simplicity of operation/ installation and maintaining on Beetle, Ghia, Trekker & Type 3 platforms.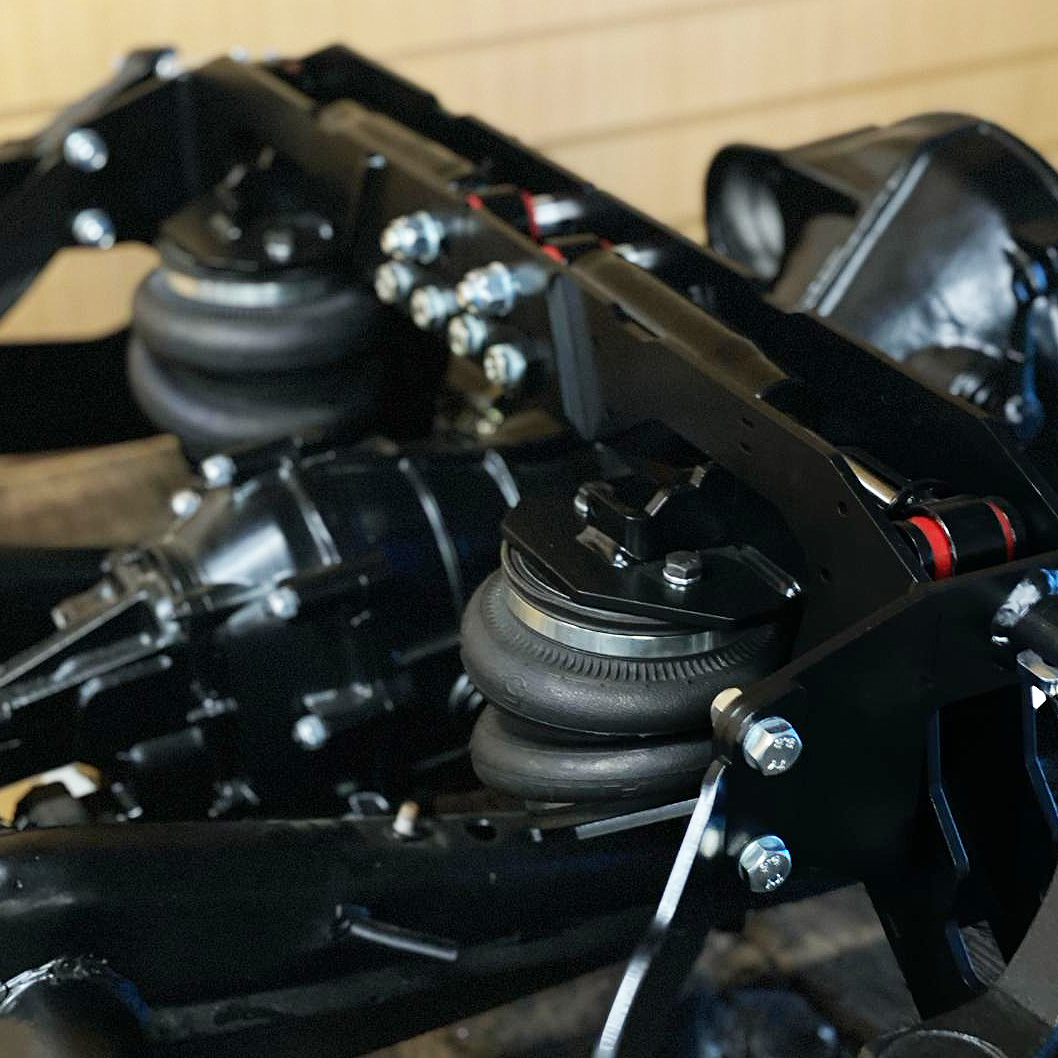 Cartridge built
Self contained Cartridge system means ultra simple install, and self limiting within its own operational cage. No stress is dispersed on any external factory components.
Infinitely cross compatible
Fits all the following models with only differences of tab/ front link and drop link rod.
– T1 Beetle / Karmann Ghia
– T181 / T182 Trekker / Thing
– T3 Fast / Notch / Squareback and Variant
– T34 Razor Edge
– Fridolin
– 1302 /03
Suits all rear suspension platforms
Fits all models of IRS and Swing Axle with the same unique system
Suitable for all years
From 1950-1995 One Kit fits all chassis
The ability to still run heaters
The only kit currently that offers true air ride (no torsions) and the ability to maintain the factory heat exchangers and heating system. Some small mods required on pre-60 25/30 motor shoebox heaters, enquire for full details.
No engine or gearbox removal required
Getting installation time right down, no engine out, no gearbox out, not even the fuel and clutch need to be touched.
Super low lifting pressures
Thanks to the unique cantilever arm, the lifting is possible as low as 15PSI using the one to one inverse cantilever the bags lifting force is transferred directly over the shock mount.
Height sensor compatible
Another first, with pressure based systems evolving drastically over the past 5 years alongside our air kits, it was time to step it up again with our hidden mounting system, takes the sensors way out of the way of wheels and axles meaning no dirt and rocks damaging sensors, and ensures flawless operation.
Works with Hybrid Chassis
Hybrid meaning, if you run late engine and axles in an early car, say a 58 with a 65 transaxle. Our kit will still operate with no issues whatsoever.
Flexible travel ranges and dial in your fitment
So if your style is Cal Look, low rider, big billets, or fat wide oval tyres. No matter what, the range remains the same. There is however a 1 inch range of flexibility to move the range meaning you can dial in that rear travel perfect to your own taste and style.
Invisible installation
Once fitted, the system sits high up on the chassis and cannot be visually seen at any height. People will wonder how you got that static ride so low ;). Its all about those clean lines.
Simple servicing and winter maintenance
Inverted bags mean water residue sitting and purging is a ten second job, put a jack under the car. Pop the air line off just leaning underneath, the bag drains with and moisture, its that simple.
Dial in your bump stop
Built in bump stops, so you can set that low down stance position to suit your deep sump, or just to stop tyre scrub for rolling air'd out on the track.
Only premium industry components used
Machine pins, phosphor bronze, forged and all CAD plated, the premium standard you've come to expect taken up to the next level.
Recap
Hopefully the above information has fulfilled any questions you may have had regarding air suspension for your aircooled platform and what components you may require. If there is any further questions, do not hesitate to get in touch via the "Contact Us" form.
Follow us on socials: