| | |
| --- | --- |
| New Products from Limebug! | |
Air ride kits have been around for some time, with modern vehicles you simply swap out a strut for an equally sized unit with similar fixings and your done.

Unfortunately for the aircooled community torsion bars do not lend themselves to this simple solution.

Other complications with installing air ride kit in a Beetle/ Ghia specifically up until now have meant extensive and difficult welding, removing the body from the chassis completely in order to gain access and once fitted, no way back of returning to static should you sell up or wish to transfer the kit to another project.

A proper Bolt-on kit has been a far cry from most of us in the aircooled world, especially one which does not require a drill, welder, angle grinder, re-spraying and a whole heap of garage or your own time.
Titan Engineering VW T1 1950-79 Beetle & Ghia Fully Bolt on Rear Air Ride Kit Fit Demo - Limebug
Titan Engineering VW T1 1950-79 Beetle & Ghia Fully Bolt on Front Air Ride Kit Fit Demo - Limebug
T1 Rear:

The rear kit is perhaps the most complicated, both in design and fit. This bolt-on setup requires the complete removal of both the engine and gearbox to install.

The brackets utilise a 6-point mounting system with a pre-loadable joint which holds across the gearbox carrier and around the torsion tube housings. As well as this the kit controls its lateral movement (left / right) by fixing through the stock inner wings and through to the upper shock mounts. Some systems currently out there use this upper shock mount as the sole fixing point.

This is not a great idea for longevity as they are rough cast and prone to creep and eventually sheer. The upper mount was only designed by VW to bare the dampening effect not the full weight of a complete transaxle.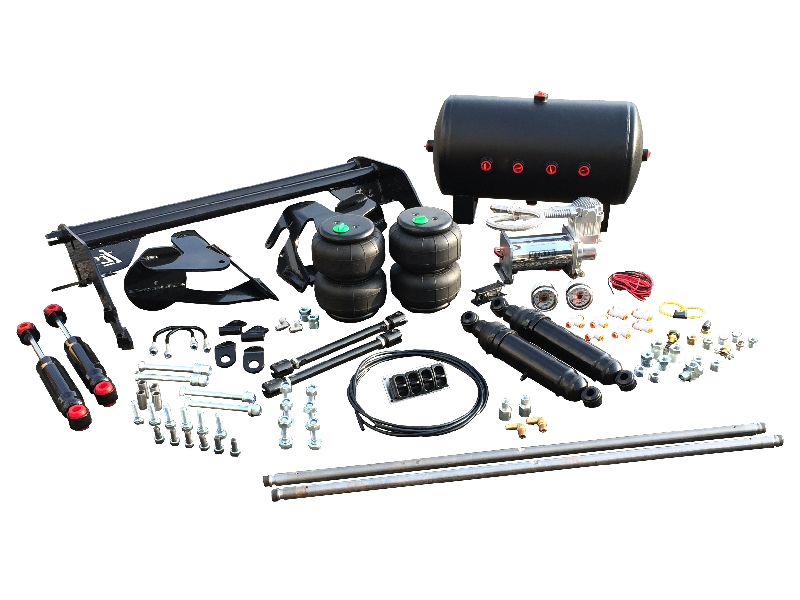 T1 Front:

The front kit uses a fixed width through rod. A through rod in effect is a torsion leaf stack, but has no torsional property, allowing the ends to freely move uninhibited.

This design is superior in that it fixes to the factory central mount, this works on both adjustable and fixed height centres.

A side benefit of this rod is that it allows you to run factory grease seals.

The rod is easily installed as it is just simply a case of swapping out the leaves, however it is worth considering the shock towers, as with the rear mentioned earlier they are not
designed to carry the vehicle.

We have developed a range of beams with taller towers for easier lift and with a gusset for strength to prevent creep inward on air or coilover front ends.

With ball joint applications, you will need long travel ball joints to get the arms to a sharp enough angle to get right down, link pin setups do not have this issue but require a weld-on shock relocator for the lower arms, if you do not have a welder we do offer a service to fit these, remember when welding to cast, you must preheat, for more information, google "MIG welding to cast steels".

Both these setups are to be run with dropped spindles in order to reach the ground.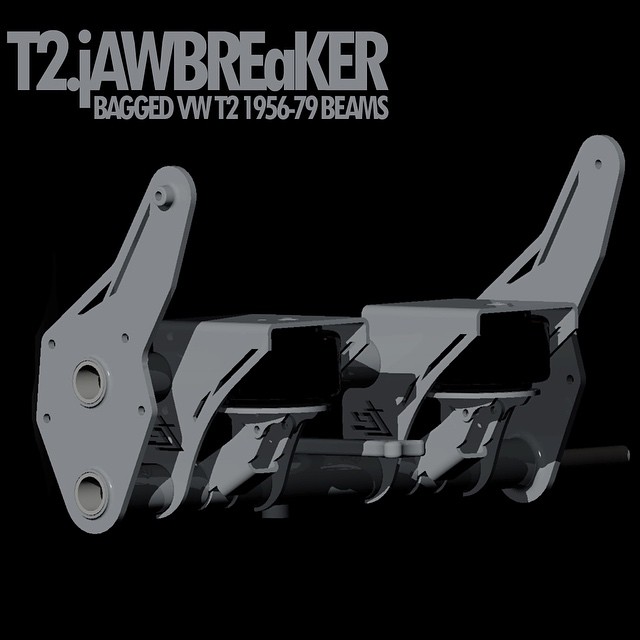 T2 Air Ride Options Coming Soon...
Accuair E-Level Air Management Upgrade Packages:

Our e-Level Air Mangement Upgrade Package combines all of the highest quality components available to control your Air Springs in one easy to order part number.

This kit includes A top-of-the-line e-Level Controller with TouchPad interface, VU4 4-Corner Valve Manifold and the most detailed Installation & Operation Manuals on the market.

Available with a Black or Chorme Touchpad
7mm Vintage Cotton Wrapped HT Lead Sets:

Cotton Wrapped 7mm HT Lead Set period part perfect for any restoration

Suitable for all T1 Engines with 009 style distributor

Also avaialbe for Type 4 Engines
Bundle Packs:

Our Range of Bundle Packs is expanding. With new packs being added each day helping you save time and money when ordering