Description
1956-74 Type 3 / 34 Deluxe Cantilever Swing Axle / IRS Air Ride Kit, Bolt on
Classic Aircooled VW Complete Air Ride Kits parts by Limebug
The Ultimate Aircooled VW Bolt on Air ride system, the industry leading T1 Beetle / Ghia Air Suspension, and now Type 3
Looking to lower you Aircooled Volkswagen the right way with air suspension? Look no further.
The Limebug deluxe air ride kit is the complete solution to taking a totally stock Type 3 including total narrowing of the front axle with fully built?and assembled track rods, and then of course all the custom air suspension gear designed by our engineers here in the UK.
This system will require the following donor parts from a T1 Beetle or Ghia
T1 Ball Joint Trailing Arms (Full Set)
T1 Dropped Spindles (Suited to drums or disk at your preferance)
T1 Drag Link (Connects the Track rods to the steering Box)
Trim the lower leading edge on your front Framehead. (Note this not 100% necerscary, however you will more than likely damage/ bend them when airing the vehicle out. These are the lowest element on the vehicle at the front by around 2″
This kit is the most conclusive solution to air ride for Aircooled VW's to date. No system touches this kit for quality, ease and simplicity of fitting and beautiful functionality.
Limebug is the only Aircooled VW specialist offering fully bolt on, true air systems (this means we do not utilise any of the original torsion bar system, and give you the full, maximum travel available).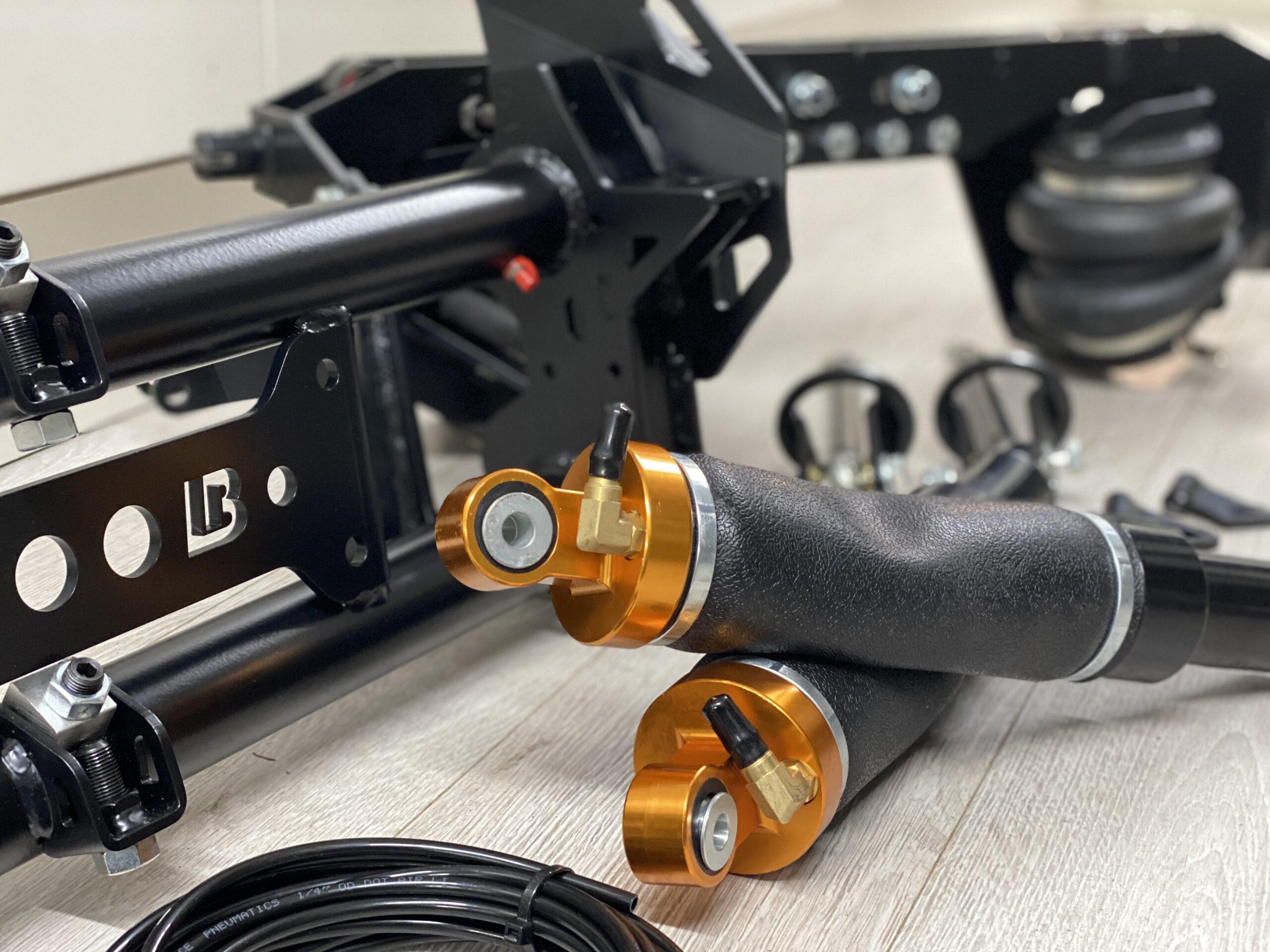 Key Features:
Control your Ride, everywhere!
Simply using our manual paddle valve or digital systems, the kit allows over 7″ of travel meaning no problem with steep driveways, speed bumps, cats eyes, potholes, rutted fields, getting on and off a ferry etc etc.
Titan Five-Point Brace System
Uniquely designed using the shock towers for lateral loading and using pre-load bars to the gearbox mount along with a cupped mount around the torsion tube housing. This system allows pre-load and left-right and front-back tweaks. This system prevents ""creep"" and chassis movement by adding strength to the existing structure in the same way as a strut brace.
Lay-it-out
No compromise, drop it to the deck design, you may wonder if the design of this kit restricts upper and lower travel, the answer simply is no. This kit will drop the spring plate (if notched or stepped) to bottom out metal-metal on the upper chassis bump stop with the rubber removed. Trust us, that is low.
Save your Fulcrums and Bearings
Commonplace faults with static lowering your vehicle is chewwing up fulcrum plates and wheel bearings from oil starvation, as well as tyre wear from continuous toeing in. Air ride gives you the ability to adjust the ride height to give you the best of both worlds, slam it for the shows, daily drive it in absolute comfort.
Bolt on also means, Bolt Off
So keep hold of your old parts, if you have enough of the car or want a new one, sell the kit on or transfer it, no need to re-buy.
Upgradable by design
our system is designed and configured to work with Manual paddle air systems, solenoids and the Digital Management systems from all leading manufacturers, as long as you are looking to use imperial 1/4″ line a Limebug air system will work.
Straight out the Box
All kits come Powder Coated in a thick hard wearing Gloss Black, all hardware required to fit to any stock Beetle?or Ghia is included. The only optional extras we offer are notched spring plates which we do recommend but are not essential in order to fit the kit if you intend to drive around at close to stock height normally.
Simple Installation
the kit can be installed in 2?days with no issue and?moderate experience, we provide a full online pdf step by step tutorial, an online video guide and are available on the phone 10:00-18:00 weekdays.
Air Management
4-Valve Manual Air Management. Ultising a 4 gallon tank, twin dual needle gauges, air cut off switch. Our kit uses Viair 380c compressor available also as a dual kit. Fit the manual paddle gauges in the dash or glovebox. Comes with Stainless mounting plate. All gauges use 1/4″" line.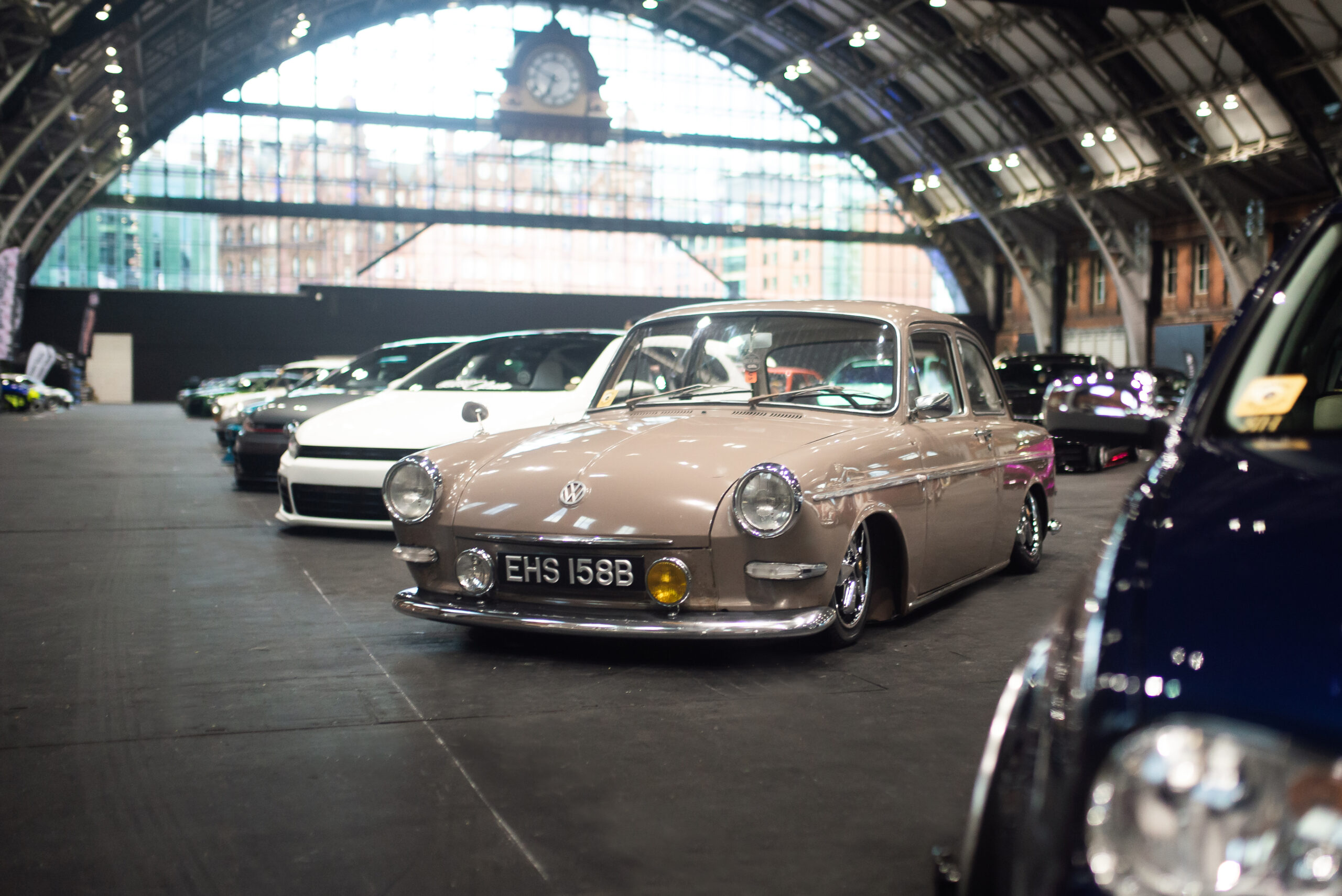 T1 RHD / LHD 4″ Narrowed Track / Tie Rods:
Professionally?Engineering Track Rods from Limebug for all Aircooled VW's stock width or narrowed.
High grade CDS turned seamless tubing is the foundation to building up our through rods, twinned with optional OE quality track rod ends and a hard wearing durable powder coat, this is the only sensible way to narrow your VW Beetle / Ghia.
We also produce these track rods in a stock width, meaning when the track rod end wears out you are not stuck with having to throw away the long rod as factory ends are crimped into place.
These feature, German Quality Track Rod Ends, and UK manufactured Track Rods. All Rods are made to our Width guides, and suited to LHD or RHD Appropriately.
If you have a special requirement or excessively narrowed vehicle we can accommodate this, at additional timescale.
Options:
– Track Width upto 4″ Narrowed Available. All track rods feature adjustment slots for easy tracking alignment.
– Hardware includes?2x LH and 2x RH threaded pinch nuts for security when fitted.
– All Track rods are supplied with a Steering damper eyelet as standard.
– M10 or M12 Stud Sizes available in all four configurations.
Front System Details:
Limebug?front air systems use the best air shocks available in the business, our UK built through rods with roller ends and unique locator accompanied by the highest quality air taps and fixings available.
If Ball Joint we recommend installing long travel ball joints to allow for maximum drop.
Bolt-on Lower Shock Relocators are included for Link Pin kits.
Grease seals are also included with kits for both Link Pin and Ball Joint platforms
Limebug's British 'Titan Engineering' department have been developing the most functional, innovative and beautiful parts in the scene to date. We have just introduced our Bug & Bus air ride ranges. Each kit is designed by certified and accredited engineers here at Limebug, before being tested by us personally to ensure ease of fitment and function.
These air systems come with our online video tutorial for installation and operation, as well as a manual and guide to installation. Our video includes an explanation of upgrades, year differences. Neat tricks to look out for along the way, and other great ways to give you VW the look you've dreamt of without the nightmares.
Titan Through Rods Explained
Limebug Gen-II Ultra Strength Through Rods are the perfect solution to setting up Front Air Ride or Coilover applications.
Each Through Rod is manufactured from solid EN8 Stock, machined to work perfectly alongside our narrowed beam range,
All Limebug through rod?s feature a deep ?V? taper to ensure a perfect mechanical link between the trailing arm and axle. Gen-II though rods now incorporate our unique class leading multi-lock system as standard.
Limebug Narrowed Through Rods/ Torsion Leaves are manufactured to run grease seals.
Always torque to the correct specifications, do not overtighten.
Optional Extras
?– 2″ Dropped Air Plates: These plates will increase the amount of drop you can achieve and resolve toeing in issues at low running heights. They also have recently recieved an update which now means they run a shorter bore tube stopping rubbing on the outer torsion cover and use 2″ Inner Diameter bushes making them overall much stiffer and give better feel to the rear end.
?- Management: Pick from 4 valve manual controls, air pressure sensitive digital systems or ride height intelligent systems.
Additional Documents
Important Operational Info: Must Read!
When operating your air ride kit, you must understand that you now have total free range to move the suspension to its mechanical upper and lower limits. The air bags used are strong enough to lift the weight of almost two Beetles per bag. In order to maintain be sure never to exceed the mechanical limits of your vehicle.
For Link Pin front setups, with no mechanical restriction be aware over pressurisation will cause the shock to foul the front trailing arm. Be sure to inspect the vehicle with the wheels off and run the car through the travel noting the upper limit PSI, be sure also to never try and collapse an air shock with 0PSI, this will force the rubber bag sleeve between the shock body and cause chaffing/ cutting.
For Ball Joint front setups using standard front shocks, be aware to tie back the air shock pipe running on the lower line to avoid chaffing and insure you have adequate clearance for the upper rubber bag under expansion. Again, note upper and lower limits as with the Link Pin models.
Also consider with Ball Joint models, when you reach the mechanical limit of your Ball Joints you will risk damage by adding more pressure.
If running T1 rear air kit, be aware of your steel and rubber bump stops, once you hit these the kit has nowhere to go and you will only apply more stress to the kit, the first sign you will get is a twist in your lower brackets, if you continue to apply pressure after this point you will cause more damage to surrounding areas. Again, to set up this area as with the front, have a friend monitor the height of the rear of your car when you do initial setup.
Also at this point consider that swing axle vehicles will lift considerably higher as soon as they move once air'd up due to the camber of the rear axle. When setting your ride heights do so applying pressure then drive the vehicle around approx 10-20 metres to allow the axles to re-settle then tweak and repeat until satisfied.
When Jacking the vehicle up always place the vehicle onto ramps or a jack, then let all the air out of the four corners to avoid an over pressurization situation when lifting the vehicle, then lift the vehicle off the ground afterwards.
If ever leaving your vehicle with a garage or MOT centre unfamiliar with air suspension, make them aware of the upper limits and inspect before and after picking the vehicle up to check for damage.
Always operate between 90-95% of the upper range NEVER 100%. As a general guide line rear kits rear their upper limits at approx 90PSI. The front around 130PSI. If you exceed these limits you WILL cause long lasting damage to the air ride kit brackets / trailing arms / shocks / Hardware.
If you drive the vehicle excessively low you will cause damage to your front axle / beam trailing arms along with the frame head. Always lift the car up to a suitable drive height and maintain air and mechanical joints and unions.
One final note if you put in a really high pressure and rear the mechanical limits be aware you will be damaging the vehicle even for a very short burst. Be careful and considerate to your air kit and you will enjoy many, many miles of hassle free driving fun.
If you are in any doubt and have a kit or considering purchase of a system and need more information, call us on 01782 922047 or email on: vwparts@limebug.com

SKU: 030010156