T1 Beetle / Ghia Fully Assembled Front Beams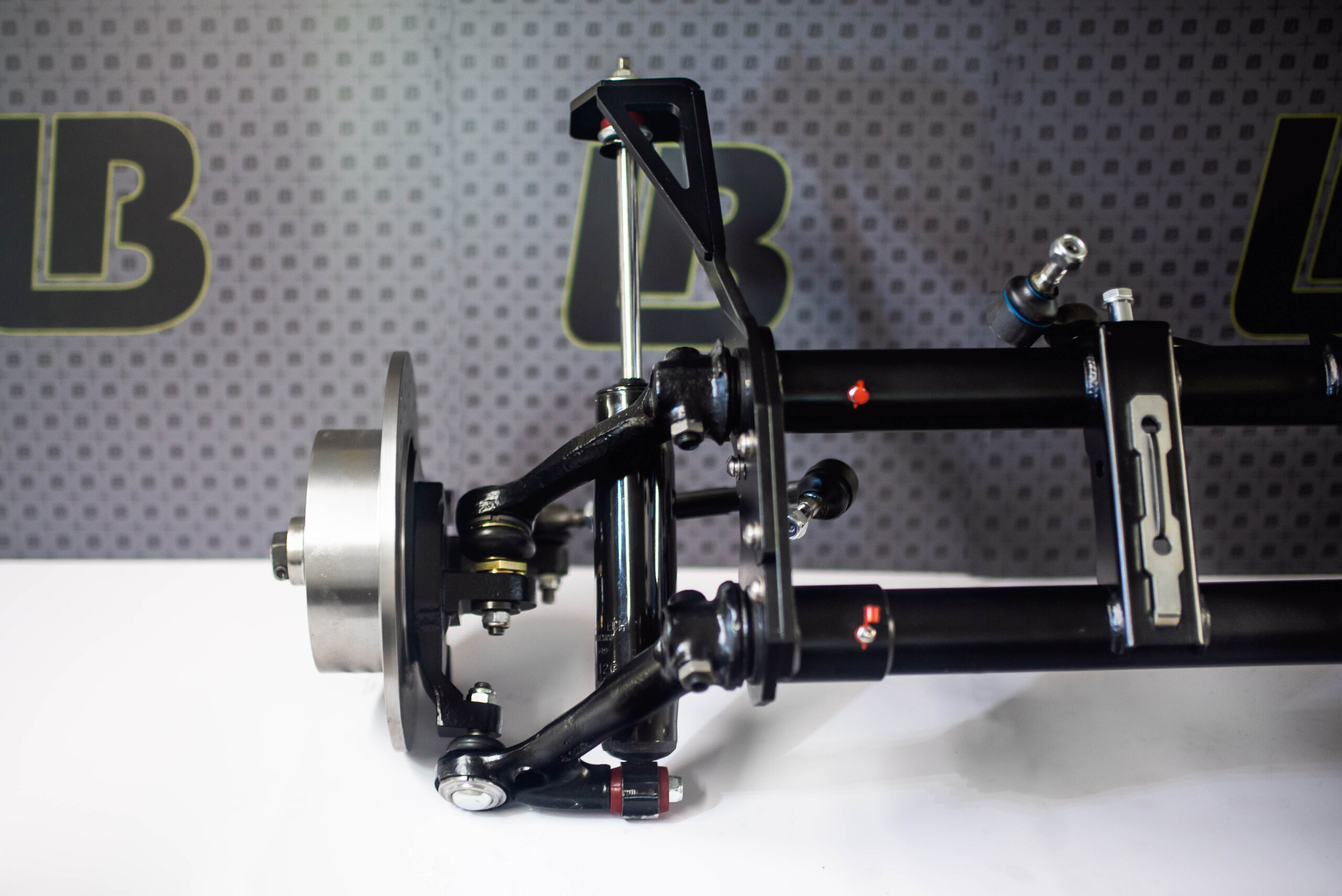 Beetle Fully Assembled Beams
Limebug Front Suspension suitable for T1 Beetle / T14 Karmann Ghia
Read through a breakdown of all high quality components and options for our Fully Assembled Front Beams, suited for Beetles and Karmann Ghias, Link Pin or Ball Joint, Static or Air Ride.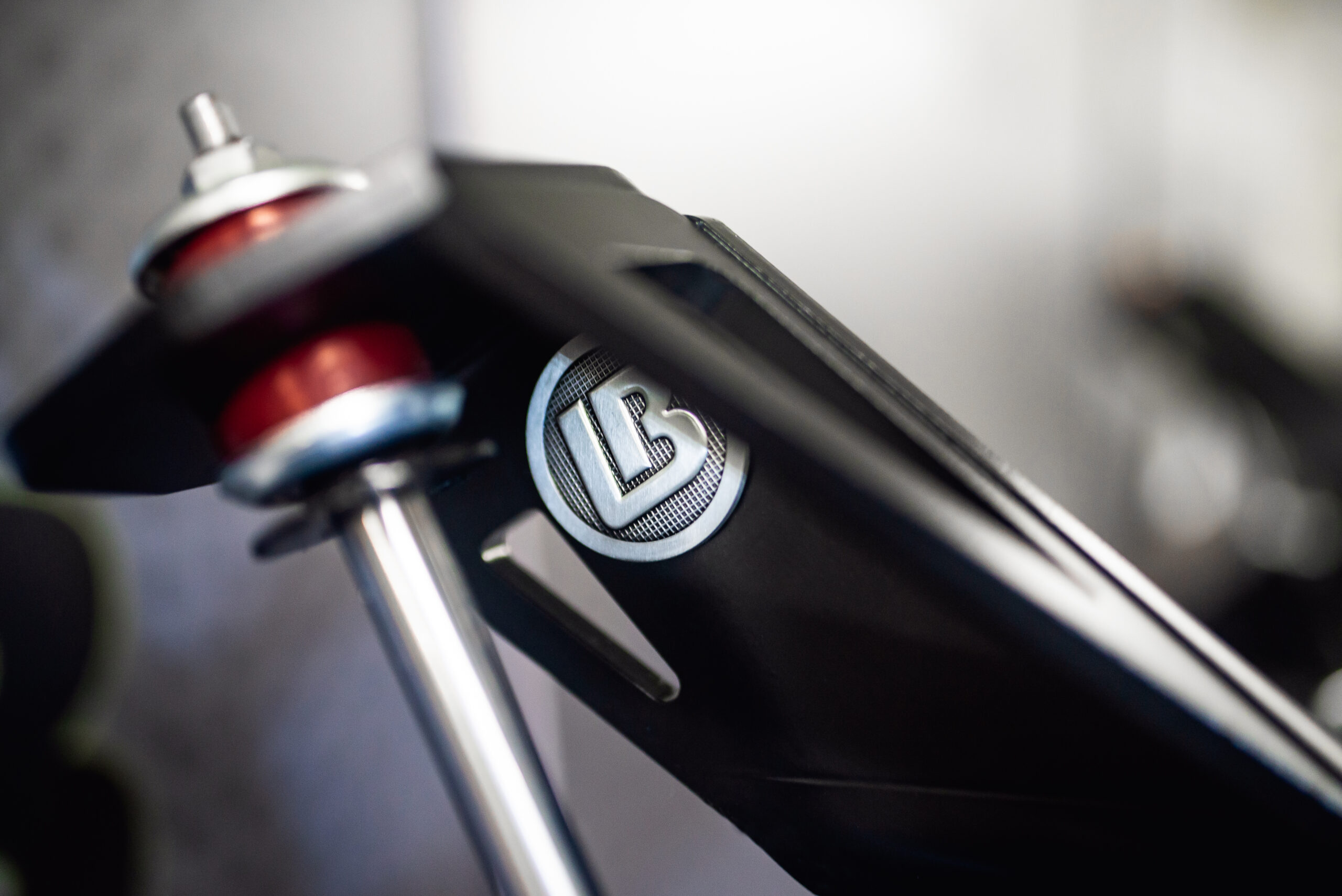 Limebug Fully Assembled Beetle Beams – Adjustable. Unlimited Upgrades / Customisation for any Application
Narrowed front beams have become one of our foundation and most popular lines. Our Titan (Static) and Jawbreaker (Air Ride) Series beams have paved the way for simple installation and feature rich design. The recipe has remained largely unchanged since conception with narrowed beams becoming the standard for any vehicle upgrading to larger wheels/ disk brakes and getting the front of the vehicle down.
Our Second Generation modular beam has brought a freedom to evolve your setup as requirements change.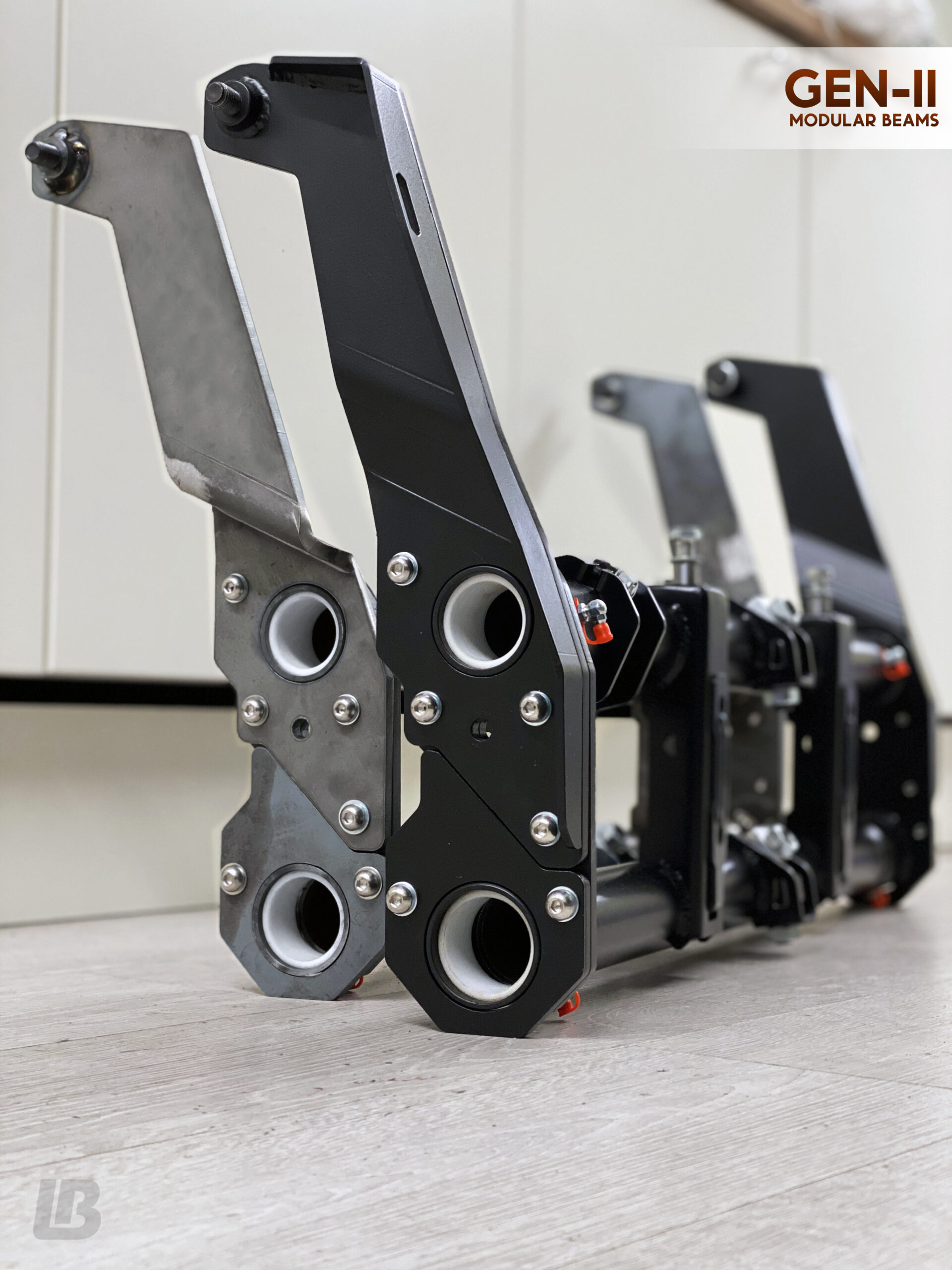 You Spoke, We Listened
---
The Aircooled VW pan has long been the go to platform for not just custom builds of standard platform VW based vehicles, but kit cars, recreations, tributes, beach buggy's and all manner of automotive. This because the platform is one of the most versatile and long standing seen in any car manufacturers history. With this comes the requirement for constant change and easily customisable front axles.
Since Limebug's conception we have followed the change in trends through the ages and so many custom touches are added to each individuals beam for totally unique reasons the concept of a Modular Axle came to fruition.
Modular Beam, What does that mean?
---
We have created the first of its kind, modular beam, by retaining a universal central core, the beam's end plates give options to replace and change as the styling of the vehicle evolves. this means that while the individual decisions of, design / style and application dictate the beams final form, it is infinitely up-gradable and serviceable.
The System, How does it Work?
---
What does this mean for my Fully Assembled build / Beam Installation / Maintaining
---
Gen-II offers the expansion room to change and adapt your build with time as well as maintain and upgrade your single beam unit with minimal upkeep costs. All spares available through our website.
Installation has been simplified another step, the beams unique design also has added benefits when fitting or mocking up. Install the centre module first, then offer up the towers after to ensure perfect inner wings every time. Also meaning you will not require ramps or a second pair of hands for installation or removal.
One Core, Limitless Possibilities….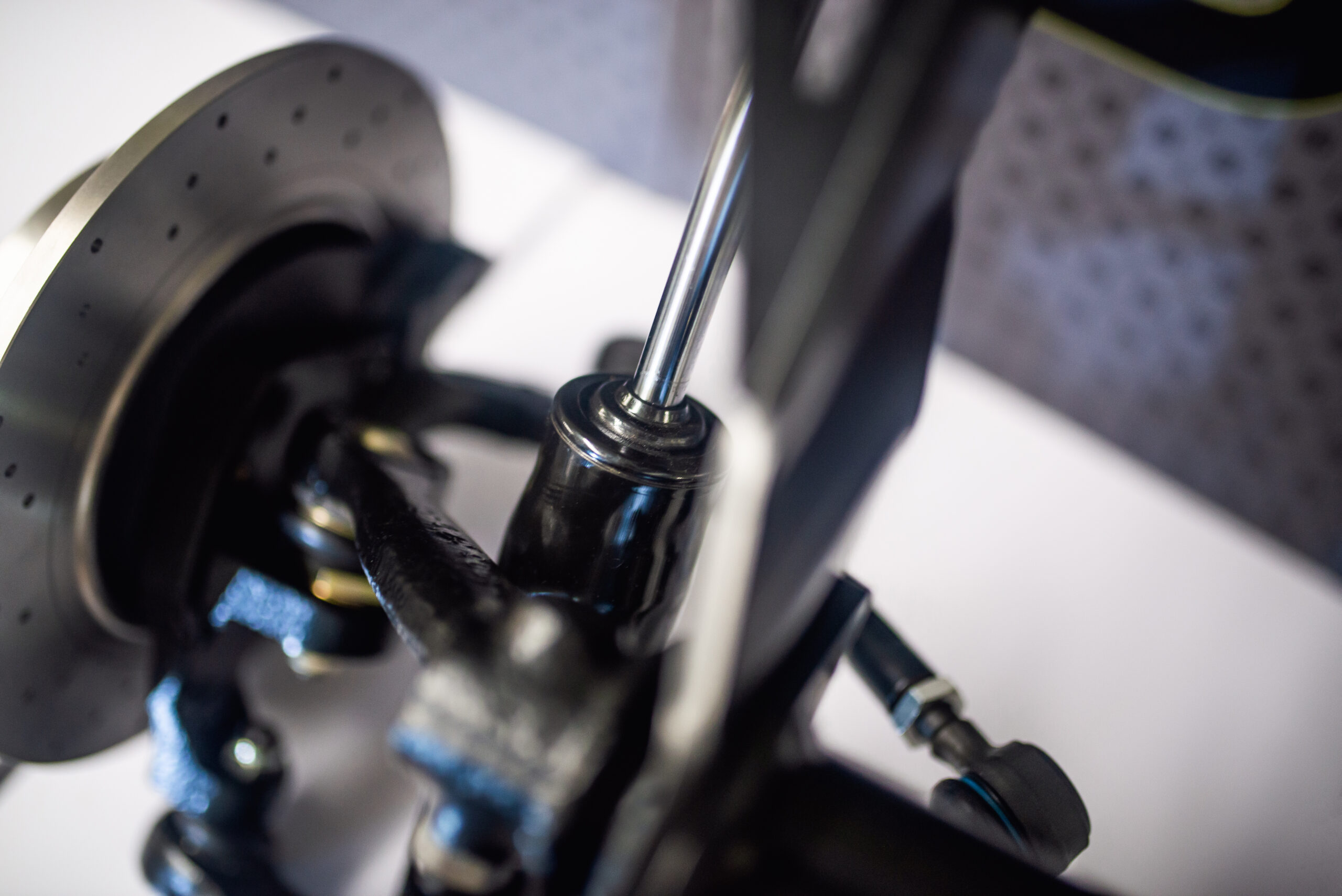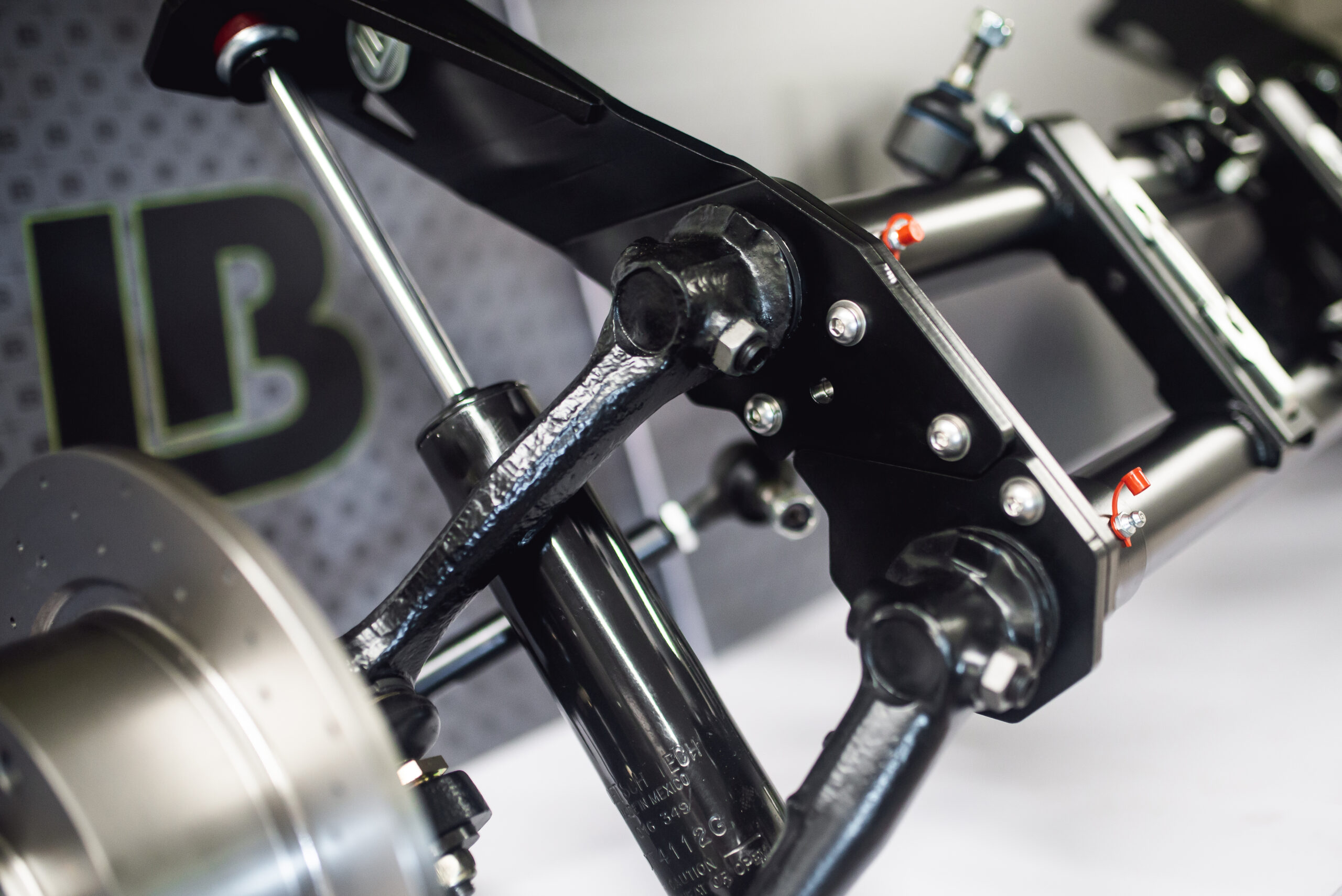 Closer Look at the Terminology behind Beetle Fully Assembled Beams components
Dropped Spindles
A modification that became very popular in recent years, dropped spindles ensure trailing arm angle is correct as appose to traditional methods of just fitting adjusters and dropping the vehicle to the mechanical limit. As a result of this, dropped spindles achieve a "body drop" style of lowering maintaining all original suspension mounts and fixings by raising the stub axle.
Long Travel Ball Joints
Applicable to Ball Joint (66- on Models). Over long periods of time, excessive force can cause a fracture or total failure of a ball joint. Long Travel ball joints minimize this by utilizing additional clearance in the channel of articulation.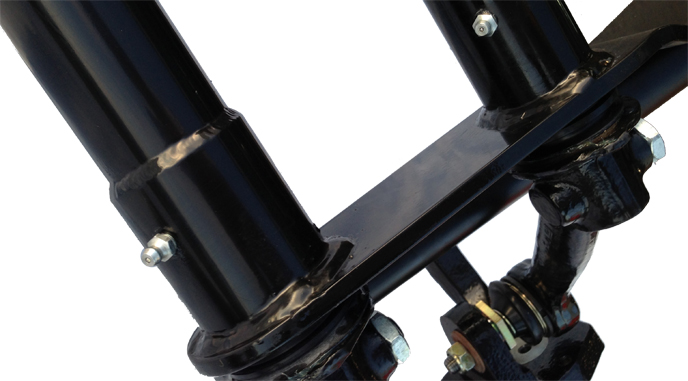 Delrin Bushings
Delrin has become "The Material of Choice" for most premium quality beams on the market. This is because it has a low wear property and high strength. They are the perfect replacement for traditional bakelite and bearings within the beam. Failed bearings are the main cause for excessive play in trailing arms which unfortunately eats trailing arms for breakfast. Ensure that you never suffer this again with Delrin!
Grease Cavity
The grease packing is an essential part to longevity of a beams life. To overcome this, Limebug Gen-II Beams feature a unique cavity system which allows the original trailing arm cavity to be packed and ensure smooth operation and articulation of the beams suspension components right from day 1.
MOA GS Gas Charged Shocks and MOA430 Air Struts
We offer a wide range of shocks to be twinned with our range of beams:
The GS series gas charged shocks are perfect for static stock and lowered vehicles. Each product is rated at different rebound and stiffness deliberately characterised to suit the ride height and available travel.
The MOA430 is the ultimate air strut, feature rich and ready to take on any of our T1 and T3 front air ride equipped beams. Esuring consistent lift heights and compliant and smooth road holding at all heights.
OE Torsion Leaves, re-dimpled the right way
A bone of contention for us has always been poor re-dimpling on beams, this has cause no end of trailing arms falling off, or lop-sided ride height and angle. We use our CNC mill with carbide cutters to give exact narrowing dimensions, and dimple always to the correct depth/ angle.
Adjusters
Adjusters on Limebug beams are robot welded in place, featuring the adjustment slot built into the beam itself to give a beautiful and strong finish. The adjusters are set to angle to work in conjunction with dropped spindles whilst allowing for near stock height max adjustment.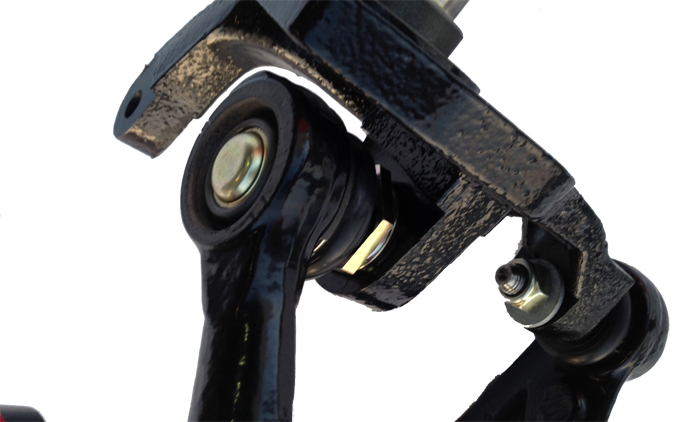 Pre-blasting
100% of the components on Limebug beams are all pre-blasted. This is absolutely essential in ensuring the coating of the axle remains stuck to the metal. The fast and cheap method of coating only never lasts the time and always see's issues down the line. Therefore, all our axles are subject to this extensive and high end treatment.
Narrowing
Most customers are looking for that narrow low look. However, narrowed beams hold a minefield of issues not just the immediate issues of narrowed tie rods and leaves. Another result is, narrowed beams can cause issues with steering. We fit custom made pre-narrowed tie rods, use all our own rod ends which feature double jam nuts. Along with this we now offer the new Limebug Ultrarm, which helps achieve stock steering lock and feel even on a narrowed beam.
Shock Relocating
Essential on Link Pin Air Ride beams, fitted as standard on all Limebug -65 Jawbreaker (Fully Assembled Air Ride Beams).